Fizah Jadhavji
20 in their 20s
Monday, June 17, 2019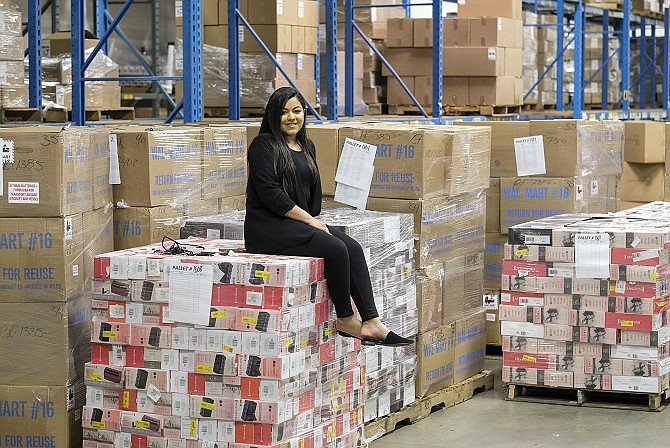 Fizah Jadhavji, 28
Title: President, Vivitech Solutions Inc.
Company: Sylmar-based Vivitech Solutions provides reverse logistics and product lifecycle management services for consumer electronics brands and manufacturers.
Employees: 12
Financials: Declined to disclose.
What led you to start this business?
Growing up in an entrepreneurial household, I worked with my family from a young age, so I was able to leverage the reverse logistics industry knowledge and our vast business partners and connections I gained early on to start this business with existing resources and my savings.
How did you fund it, and how are you funding it going forward?
We are self-funded, and we reinvest profits to further support our growth.
Are there advantages/disadvantages to starting a business in your 20s, and if so, what are they?
Being able to travel to meet clients, speak at conferences and walk many industry conventions allows flexibility in my schedule. I also find that my elders are open to sharing their wisdom with me because they are excited about young leaders within the $600 billion reverse logistics industry. On the other hand, I have a completely different set of responsibilities from my peers and often find it hard to connect. I had to make a lot of sacrifices — such as in my social life — to get the business where we are today.
Do you have a mentor?
My father. I worked with him from a young age, and he allowed me to dive into the business and learn all aspects involved from sales, marketing and business development, to customer service and logistics. (His experience) gave me a very holistic view of the business. I am very grateful for that.
How much time/money do you spend on social media for your business?
As a (business to business) service provider, we do not use social media; rather, we attend conferences and tradeshows to network and connect with others in the industry.
Does social responsibility play a role in your business?
Absolutely, social responsibility is the core of our business as we help our clients extend the life cycle of their products and reduce their carbon footprint. We refurbish, recycle and put products back into the market as a secondary good. So the products that were dumped into landfills, they are now being repurposed and resold into the market.
Do you feel that your business is particularly tailored to the Los Angeles market, or do you feel you could have launched it in another location?
Reverse logistics is international in scope. Our clients are international, and we handle their North American consumer and retail returns. Our sales clients are also internationally based: North America, Latin & South America, Asia, U.K., and the Netherlands. I was born and raised in Los Angeles, so being able to start a business here, be close to family and still have that global reach is unbeatable.
Do you encounter skepticism from investors because of your age, and if so, how do you handle it?
Not really. While we are self-funded, we have actually been approached by numerous top acquisition companies that read our published articles, heard our ForbesBooks podcasts, or heard me speak at national conferences. My age didn't appear to play a role.
What do you do for fun?
I love travel, adventure and spending time with loved ones.
For reprint and licensing requests for this article, CLICK HERE.
Stories You May Also Be Interested In