Dillon Morgan and Jarrett Chen
20 in their 20s
Monday, June 17, 2019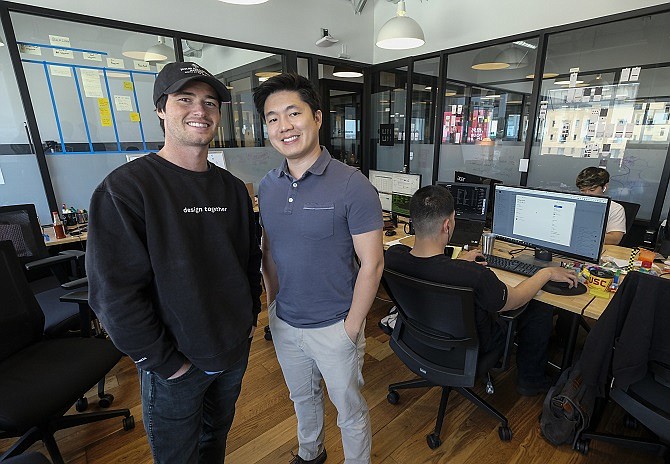 Dillon Morgan, 26
Title: Chief Executive, Co-founder
Jarrett Chen, 29
Title: Chief Technical Officer, Co-founder
Company: Hollywood-based Unum Inc. is a digital marketing firm that offers social media management tools.
Employees: 15
Financials: VC backed. Declined to disclose revenue or amount raised.
What led you to start this business?
Morgan: While we were at USC, we started Spop, a location-based messaging platform. During football games, people congregated in one area. The cell service is terrible.
Chen: I figured out a way to (message) through wireless networks without cell service. You can send messages and create groups without cell service, say, if you are at Coachella or during a football game.
Morgan: As a startup, we were wearing a lot of hats. Looking for (creative) agencies — we couldn't afford that. I created Unum to solve our workflow for Spop, to replace what a marketing team would do.
How did you fund it, and how are you funding it going forward?
Morgan: I basically went as a photographer to a venture summit and met several (VCs) including Chenoa Farnsworth — she was managing director for Blue Startups founded by Henk Rogers, who started Tetris. We just hit it off, and we went through their process and applied to their accelerator. I came back and told Jarett, "We are in." We have a subscription model. We are VC backed. We are not sharing our investment information, but we were fortunate.
Where do you go for advice regarding your business?
Morgan: I would say definitely USC has been very influential, both Patrick Henry and Albert Napoli, Marshall School professors. There are a lot of ups and downs in early stages of startups, how to structure deals, what to look for in investors. An objective understanding (of the industry).
Chen: Most of it came from USC professors and a lot of podcasts and articles. Coming from an engineering background, it was a shock to me. I never thought much about management.
Does social responsibility play a role in your business?
Morgan: That's one of our core missions and foundations of our company. We are really about uplifting people that don't have a voice traditionally. For instance, we partnered with Pexels, a copyright-free photo and video platform that anyone can use resources from, for Pride month to support (the LGBTQ) community.
Do you feel that your business is particularly tailored to the Los Angeles market, or do you feel you could have launched it in another location?
Morgan: We are in 195 countries. But we are L.A. native. It's the entertainment and media marketing capital of the world.
Chen: During the startup phase it didn't matter. But there are a lot of influencers in L.A. compared to the middle of the U.S. Being the entertainment capital of the world, we have a lot of connections that we can utilize.
Do you encounter skepticism from investors because of your age? How do you handle it?
Morgan: If they didn't know us maybe, until we meet. We know our space. It's never been an obstacle.
Chen: The first impressions were the hardest to overcome. One of the biggest things I learned is I had to double down on my research and present it in a way so investors forget that you're 20 years old.
What do you do for fun?
Morgan: I would say work is fun. If we are not doing that, I live in Hollywood, I meet up for drinks with friends. I used to surf, but I don't have time for that.
Chen: Dancing with my wife — swing dancing. And trying to learn to cook from social media. I really am into that.
Correction: An earlier version of this story misstated Dillon Morgan's age. He's 26.
For reprint and licensing requests for this article, CLICK HERE.