Alix Peabody
20 in their 20s
Monday, June 17, 2019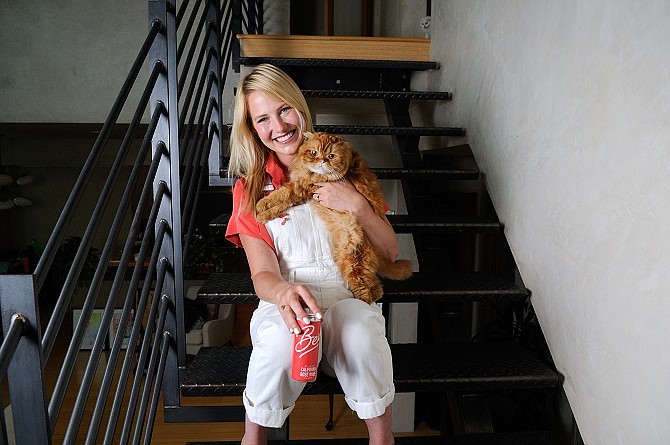 Alix Peabody, 28
Title: Chief executive, founder, Alixir Co.
Company: Venice-based Alixir makes Bev, a canned rosé wine.
Employees: 16
Financials: $2 million in preseed funding, $7 million in seed funding closed in April.
What led you to start this business?
I started the company in 2017. I was having some health problems. I was living up in San Francisco, and they were related to reproductive health. I started throwing ticketed pool parties at my aunt and uncle's house in Sonoma and raised money to freeze my eggs that way. I had the idea for the brand long before I had the idea for the product and the company itself. I went to Dartmouth undergrad, which was very fratty. I was in finance, which was also very fratty. Time and time again I found that women, when out or socializing or drinking, tend to be in men's spaces. When I was throwing these parties, I really loved the energy of the female-owned social space and how it shifted the gender dynamics in a way that was pretty unique. That was originally the brand. I can make feminism fun and change the narrative of women always being in men's social spaces.
How did you fund it in the beginning?
I moved from San Francisco to Los Angeles, and when I did, I changed my address. It triggered a notice on a 401(k) I had completely forgotten that I'd had. I had about $20,000 or $30,000 in this 401(k), so I cashed the whole thing and bought my first product with it. I took that product to help me raise money and get a little bit of buzz around the company.
How much time/money do you spend on social media for your business?
Money? None. All of our growth has been organic. Time? A fair amount of time. We use social media to build our community.
Does social responsibility play a role in your business?
A lot of what we're trying to do and talk about is changing the paradigm around gender dynamics when people are socializing and drinking, and opening that conversation, which is something not many alcohol companies have done.
Do you feel that your business is particularly tailored to the Los Angeles market, or do you feel you could have launched it in another location?
We are a California wine, and so we had to start in California. I think we'll do well in a lot of different markets. There just aren't that many products out there that are speaking to women from women — speaking to them rather than at them.
Are there advantages/disadvantages to starting a business in your 20s, and if so, what are they?
Similar to starting a business as a woman. You're constantly underestimated. Whether that becomes a tool or an impediment is up to you.
What do you do for fun?
I hang out with my fiance and my kitty. I like to travel, and I'm big on exercise and the mental clarity that that brings.
For reprint and licensing requests for this article, CLICK HERE.