Naming Rights Up for Grabs
MEDIA: LA area stadiums use deals to fund construction
Friday, June 14, 2019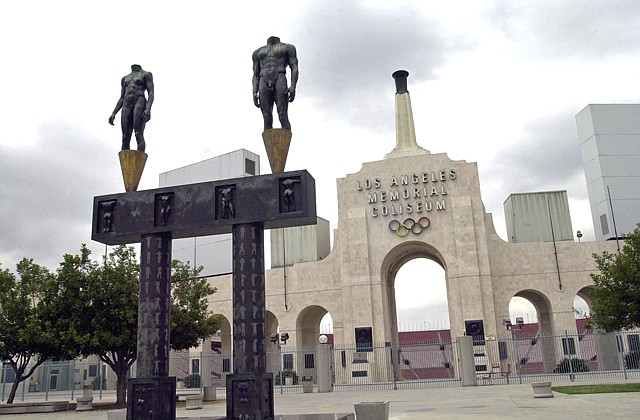 L.A.'s sports venue landscape is getting an upgrade, with the Los Angeles Stadium at Hollywood Park taking shape and the Los Angeles Memorial Coliseum undergoing a $315 million renovation.
To fund those efforts, the stadiums have offered naming rights to the top bidder — a strategy billed as a way for companies to enhance their brand recognition.
But experts say the real return on naming investments may be more of a boost to vanity than a company's bottom line. And in some cases, the strategy can backfire.
"In theory, the stadium receives a number of media mentions, which is a form of free advertising," said Roger Noll, a sports economics professor at Stanford University. "But there is no evidence that naming rights are worth the cost."
USC and United Airlines Inc. said this month that the Los Angeles Memorial Coliseum will become United Airlines Field at the Los Angeles Memorial Coliseum as of Aug. 1.
The deal replaced a proposed $69 million agreement that would have renamed the 98-year-old stadium the United Airlines Memorial Coliseum. Los Angeles County Board Supervisor Janice Hahn said that change would have been an insult to the World War I veterans who are honored by the stadium, turning the venue into a "marquee for sale."
The new deal renames only the Coliseum's field. USC and United Airlines wouldn't say how much United paid for those narrower naming rights.
Companies are vying for the rights to attach their names to other L.A.-area stadiums. San Francisco lending company Social Finance Inc. was reportedly in negotiations to pay $20 million a year for naming rights to Inglewood's new Los Angeles Stadium.
And facilities manager SMG Holdings Inc. announced June 11 that Citizens Business Bank Arena in Ontario would be renamed Toyota Arena for the next 10 years, under a partnership agreement with the Southern California Toyota Dealership Association. Financial terms of the deal were not disclosed.
No economic gains
As recently as 1990, only a handful of North American facilities had sold their naming rights, according to Michael Leeds, a Temple University economist. But by 2001, the majority of facilities in professional baseball, football, basketball and hockey carried the name of a company that paid for the naming privilege.

Leeds began studying naming rights partly because of what he called the "stadium sponsorship curse" of the early 2000s, in which several companies declared bankruptcy shortly after putting their name on a new stadium.
For reprint and licensing requests for this article, CLICK HERE.
Prev Next