2019 Women's Council & Awards: Taking a Career to the Next Level
Custom Content by the Los Angeles Business Journal
Monday, June 10, 2019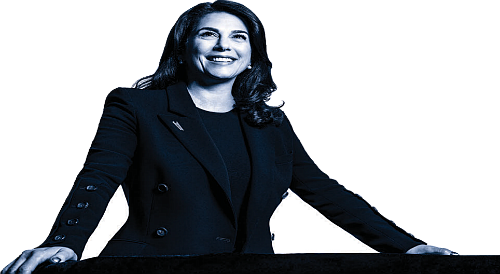 In the course of her 30-year career in financial services, Kelly Coffey has held a series of leadership positions in corporate finance, mergers and acquisitions, equity markets, investment banking and private banking. She has been named one of the top-15 most-powerful women bankers by American Banker. On Feb. 1 of this year, Coffey became the fourth CEO in City National Bank's 65-year history.
Below is a Q&A discussion with Coffey.
Q: What has it meant to be a financial leader and to work with and mentor other women at the organizations you've led?
A: Advocating for and mentoring women has been a passion for me throughout my career, as has increasing diversity in every business I've led. I have been fortunate, because I've never felt disadvantaged in my work life by being a woman. I have been lucky enough to work for people who rewarded me for learning skills and being the best at what I do.
Sometimes, women need a little extra encouragement to go to the next level in their careers. They need to develop that self-confidence that says, "I don't know how to do this yet, but I can learn how." My advice? Be brave. Be ambitious. Don't be afraid. Have confidence in yourself – and be yourself – no matter what you're doing. When you start in a new position, bring your fresh perspective on how the company is doing things. Then let them know how they can do better. Have that confidence to come in and say, "I have a view on this that I want to share." It will make you so much more impactful in job, your business and your career.
Q: How did your background shape your career?
A: I grew up in a small town in Pennsylvania, in a big Italian-Irish family. I never intended to go into banking – I studied French and international business – but my earliest memories of working are in a bank. My grandfather was the CEO of a small bank. I was the oldest grandchild, so I would go to work with him as often as I could. I would greet customers as they came in and I loved it. My first real job there was running credit reports on a little machine. It was fun for me, so I'm very comfortable in the bank environment.
Q: Why have you been such a strong advocate for women in the financial services industry?

A: I have long been a believer in the idea that diverse teams deliver better results. In every position I've been in, I've increased diversity. But in order for women to advance in any industry, and maybe especially in financial services, they have to have advocates. At my last job I helped run the women's network, which was a grassroots effort where a number of senior women came together to attract, retain, develop and promote a group of younger women at the firm. We knew they could get to that next level, and we wanted to help make sure they were gaining the skills they needed and getting the feedback they needed to make it. We stepped in and it really made a difference, I think.
Q: How do you encourage women that you work with?
A: Everybody has that little voice of doubt in their head that asks, "Can I really do this?" And I've seen it particularly with women. More than a few times, I've had a woman in my office and I've offered her a bigger job and she'll say, "I'm not
sure I'm ready for that. I don't know these five things I need to." So I give them a bit of a push and say, "You'll figure it out. I'll help you do it. I wouldn't offer you this if I didn't think you could do it." Women need to start thinking that they can do it, and if they don't know everything right away, they'll learn. And if they make a mistake, they'll learn from it and be better for it."
Q: What do you say to young women who are looking at careers in financial services?
A: All young people need to see somebody who's done what they want to do, so there's a path they can follow. In one of my early leadership positions, there were very few other women in the group. I made a conscious effort to think about how we could pull women into the business, and I enlisted the men to help me recruit amazing women to work with us. By the time I left that position, we were over 50 percent female. Once you reach critical mass, it becomes self-sustaining. So I tell people that all it takes is one woman to blaze the trail and others will follow.
Q: Over the course of your career, how have things changed for women in the workplace?
A: There were fewer women in financial services when I started my career, there's no doubt about that. And the pay gap is closing – but there's still work to be done. I'm looking forward to this next generation of millennial women leading the charge. They're more driven and educated than ever before, and career success is a huge priority for them.

On the personal side, when I started in banking I wore a whole lot of dark suits. Women didn't wear pants in the office – it just wasn't done. Now, I wear what I want, including bright colors and fun shoes! Today, there's much more opportunity to express your personality in our industry – and not just through fashion.
Learn more by visiting cnb.com.
For reprint and licensing requests for this article, CLICK HERE.