Higher Living
Thousands of high-rise residential units come online downtown
Friday, July 26, 2019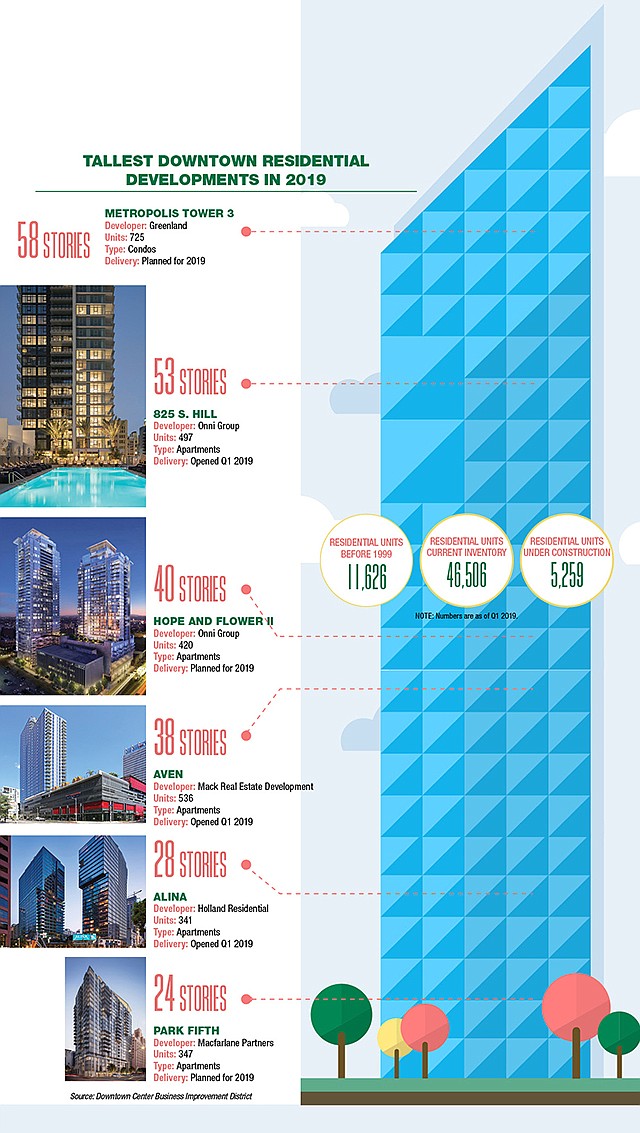 The newest residential buildings opening downtown have one thing in common: They're really tall.
So far this year, three developments over 20 stories have opened in the area: Holland Residential's 28-story Alina; Mack Real Estate Development's 38-story Aven; and the behemoth 53-story 825 S. Hill by developer Onni Group of Cos. Ltd.
Five more developments, between 24 and 58 stories high, are scheduled to open before the end of 2019 — bringing the number of high-rise residential units to be added downtown this year to 3,376, according to the Downtown Center Business Improvement District. In the last 20 years, residential development downtown has quadrupled.
"High-rise living has taken off here," said Nick Griffin, executive director of the business improvement district. "It's now something that people understand the appeal of, which is relatively new to Los Angeles."
With a shortage of housing across the region, high-rise buildings offer a particularly efficient solution.
"The supply has kept up with the demand," said Dana Brody, a senior vice president at Jones Lang LaSalle Inc. "Moving forward into the future, it will be a question as several thousand more (units) come online, but there's also a good spread between the Financial District and the Arts District."
Developers say downtown is a good place to invest in housing as the area's office market heats up. Some of the new employee base wants to live nearby, which is often cheaper than living on the Westside and commuting.
"We've been saying for years that we have a real shortage of housing in downtown L.A. compared to the half a million jobs there," said Laurie Lustig-Bower, an executive vice president at CBRE Group Inc.
Onni Chief of Staff Duncan Wlodarczak said that's among the reasons his company is investing in several housing developments downtown.
"Los Angeles is one of the largest markets in North America and has strong economic fundamentals that make it an attractive market to Onni for investment," Wlodarczak said in an email. "With a growing population and a lack of housing, there is a lot of opportunity."
Onni's projects downtown include the 53-story 825 S. Hill and Hope and Flower, a two-building, 730-unit residential project on South Hope Street that includes a 40-story tower. The project is one of at least 10 residential towers with more than 20 stories under construction.
For reprint and licensing requests for this article, CLICK HERE.