SPECIAL DELIVERY
Lorena Camargo • Pearl Transportation & Logistics
Friday, July 19, 2019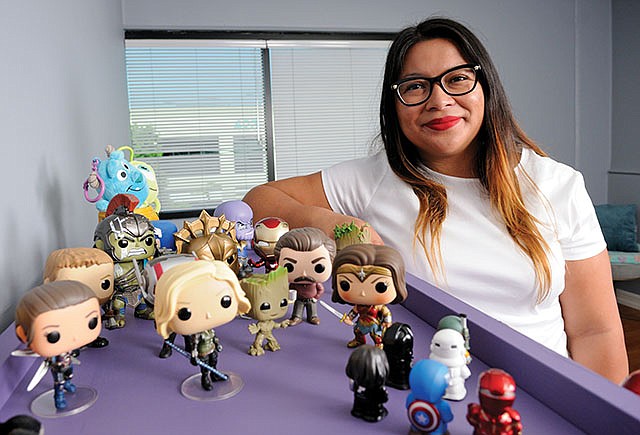 Lorena Camargo, 31-year-old founder and chief executive of Pearl Transportation & Logistics, knows she doesn't fit the typical profile of an executive in the delivery business.
She's young, female and Latina, three things that make her stand out in a field traditionally dominated by older men. But she's figured out how to make her atypical profile part of her business style.
"I've just kind of learned to embrace that, to use that to my advantage," she said during a recent conversation with the Business Journal at the company's new 3,000-square-foot space in Inglewood. "When I go to sell our services to a company, I know right off the bat that I'm already different."
Founded in 2011 by Camargo with the aid of her sister Guadalupe Morales, who serves as chief operating officer, Pearl Transportation & Logistics started in a 250-square-foot office in Burbank and outgrew several locations, including its most recent 750-square-foot digs in Inglewood.
The company offers on-demand courier services, routed deliveries, "next flight out" services, trucking, warehousing and distribution, as well as logistics services. 
The latest move, to an Inglewood warehouse, brought the company closer to Los Angeles International Airport for air deliveries while also providing more space for delivery trucks.
L.A. native Camargo began her career in the courier business at age 17 at the former Continental Messenger & Delivery Service in Burbank. Within two years, she worked her way up to operations manager.
When the company shuttered in 2011, Camargo was 23. She decided to take the plunge and borrowed $25,000 from a friend of a friend to launch Pearl. That friend gave her three years to pay off the loan. "I was able to pay him off in nine months," she said.
Camargo has more than earned the title of chief executive, but on her LinkedIn profile, she prefers the playful designation "chief cheerleader." Her style of dress and colorful contemporary office (created with some painting help from her mother) reflects youthful enthusiasm. In order to connect with the digital generation, the company is working on a branded app, so customers can place orders through their phones.
The company logo is purple because it's Camargo's favorite color, and the name "pearl" is a metaphor for starting with a little grit, then adding layers to create a thing of beauty. "This is the first building where we put a sign out, and I still get chills when I walk in," she said.
Camargo usually wears jeans to work because she never knows when she might have to leave her desk to help load up a truck. She fills her workspace with collectible toys, movie posters and her favorite superheroes including, not surprisingly, Wonder Woman.
"Because I'm young … when I get a new client, it's just so exciting," Camargo said. "I just hope I never stop being excited about random things."

For reprint and licensing requests for this article, CLICK HERE.