Former StyleHaul Executive Indicted for Embezzlement
Thursday, July 11, 2019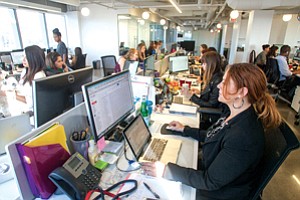 The former controller for erstwhile digital media wonder company StyleHaul Inc. was indicted July 9 on charges of embezzling $22 million from the now defunct Hollywood outfit.
A federal grand jury in Las Vegas returned an indictment of 11 counts of wire fraud, one count of aggravated identity theft and two forfeiture counts against Dennis Blieden, 29, who operated as StyleHaul's controller and vice president of accounting and finance from December 2015 to March 2019.
Prosecutors say Blieden spent millions of dollars of company money to support his frequent poker games. Blieden was the 2018 Los Angeles Poker Classic champion, but also purportedly siphoned millions from his employer toward tournament entry fees and paying off gambling debts.
According to prosecutors, Blieden also forged the signature of a StyleHaul executive to create a fictitious lease agreement for a condo rental in Rosarito Beach, Mexico.
A Los Angeles federal court judge will arraign Blieden, and future court proceedings will take place in Los Angeles.
Blieden's time at StyleHaul coincided with the company's demise and ultimate dissolution.
Stephanie Horbaczewski founded StyleHaul in 2011 as a YouTube multichannel network with content mostly provided by beauty, fashion and lifestyle creators.
A forerunner to the social media influencers of today, StyleHaul was purchased for $107 million in 2014 by Luxemborg-headquartered digital media giant RTL Group, which valued the company at $151 million.
But StyleHaul was one of several multichannel networks that struggled to either get consistent advertising revenue in its partnership with Alphabet Inc. subsidiary YouTube, or find other revenue sources.
"The market was a bit of a bubble, and it was a little strange that the MCN's (multichannel network) revenues depended on one company," said Jody Simon, an entertainment lawyer at Fox Rothschild. "They were basically living off YouTube."
StyleHaul announced in March that it would shut down U.S. operations including the company's main Hollywood office, which had 55 employees. The company said it would continue operating in London, but StyleHaul ceased operations completely in May.
Whether Blieden's behavior accelerated StyleHaul's decline is not clear. A spokesman for RTL Group declined to answer specific questions about how much Blieden hurt StyleHaul's overall fortunes, but responded with a statement about the indictment:
"Earlier this year, StyleHaul identified certain accounting irregularities as part of an internal review, and its preliminary investigation found that over the past years Mr. Blieden executed a series of unauthorized transactions totaling about $22 million. StyleHaul immediately reported the issue to law enforcement and is cooperating fully with the authorities. Additionally, the company retained outside counsel, which conducted an internal investigation."
Media and entertainment reporter Matthew Blake can be reached at (323)556-8332 or mblake@labusinessjournal.com
For reprint and licensing requests for this article, CLICK HERE.