Cargo Volumes Down at L.A., Long Beach in First Half 2019
Thursday, July 11, 2019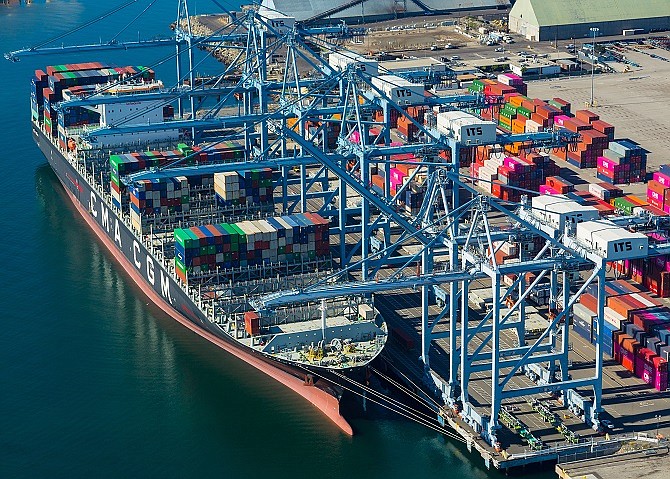 An ongoing trade war with China has dampened 2019 volumes at the San Pedro Bay ports, with imports declining 3.3% through the first six months of the year compared to the same period in 2018.

Exports through the neighboring ports of Los Angeles and Long Beach — the hemisphere's largest hub for cargo trade with Asia — were also down, falling 7.1% during the first six months of the year.
"The story we saw develop in 2018 was retailers forwarding goods to beat tariffs," wrote Mario Cordero, head of the Port of Long Beach in releasing the latest figures. "For 2019, it seems that the cargo is all here and warehouses are filled. That's disrupting container movement and the growth we would normally see this time of year."
The San Pedro Bay ports have become a barometer of how trade tensions between the world's largest economies are playing out across U.S. supply chains.
The U.S. has slapped tariffs on $250 million worth of Chinese-made products, creating a frenzy last year among retailers and manufacturers who scrambled to import goods and materials before the levies went into effect.
Talks between China and the United States have recently resumed after President Donald Trump and Chinese President Xi Jingping agreed last month the U.S. would postpone planned tariffs on $300 billion worth of Chinese imports.
With those tariffs now in place — the last and largest a 25% levy on $200 billion worth of goods that went into effect in May — volumes are slowing for both for imports and exports.
In June, the Los Angeles and Long Beach ports showed a drop in imports for the second consecutive month just as the annual peak shipping season is about to begin. Imports dropped 5.1% in June to 727,924 twenty-foot equivalent units, a standard measure for container cargo. Exports fell for the eight month in a row, declining in June 3.4% year over year.
The National Retail Federation and Hackett Associates, which tracks port volumes, forecasts import growth throughout the summer at major U.S. commercial ports as retailers attempt to insulate consumers from a possible price spike should more tariffs be imposed. Across major ports nationwide, NRF estimated imports would rise 2.8% in the first half of 2019.
"You have to remember that 2018's numbers were unusually high because of importers bringing goods into the country early before new tariffs could go into effect," said Craig Shearman at the Federation.
CORRECTION:
An earlier version of this story misstated the timeframe of the National Retail Federation's import growth estimate. Across major ports nationwide, NRF estimated imports would rise 2.8% in the first half of 2019.
Manufacturing, retail and trade reporter Rachel Uranga can be reached at ruranga@labusinessjournal.com or (323) 556-8351. Follow her on Twitter @racheluranga.
For reprint and licensing requests for this article, CLICK HERE.