Getting In tune
Management and workers both benefit from unionization at KCRW, KPCC
Friday, July 5, 2019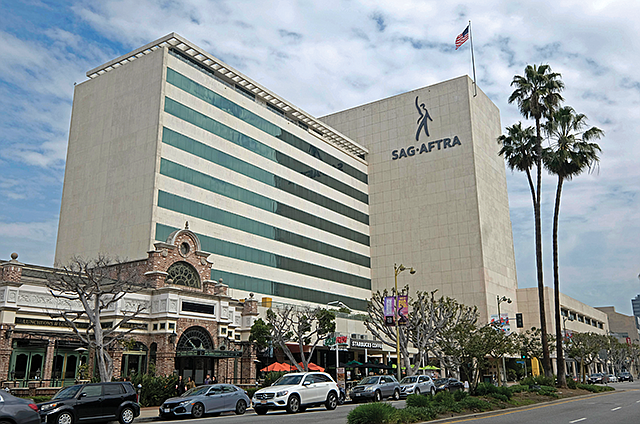 In the past few years, a wave of unionization has swept up workers at public radio stations including KCRW-FM (89.9) in Santa Monica and KPCC-FM (89.3) in Pasadena, and SAG-AFTRA has been their union of choice.
KPCC was at the vanguard of this labor movement, with employees there organizing in 2013. Last month KCRW's 90 staffers made that station the most recent public radio outlet to unionize.
The trend has added to the coffers of Mid-Wilshire-based Screen Actors Guild-American Federation of Radio and Television Artists, which has organized workers at private sector radio stations for decades but until recently had limited representation of their public counterparts.
The unionization efforts have also brought about a rare kumbaya moment in business-labor relations. Management at public radio, which is enjoying financial growth while other media sectors are in turmoil, has welcomed SAG-AFTRA to the fold.
"We look forward to creating an even better work environment with our employees and SAG-AFTRA," said Jennifer Ferro, president of KCRW. "We want to support our employees and build a positive working relationship inside KCRW."
Ferro added, "We were one of the last large market public radio stations that hadn't had union representation."
The era of good feeling may continue so long as public radio "has a much more solid revenue generating model than commercial radio and other media," said Michael Harrison, publisher of radio trade publication Talkers Magazine.
A unionized workforce, Harrison added, poses no looming threat to a public radio market that is "turning up its nose at commercial radio."
Financial growth
Public radio in the United States has been a financial success story in the past decade, especially for the 123 affiliate stations under parent companies National Public Radio Inc. and American Public Media Group.
Total revenue for these stations reached $829 million in 2016, a 21% increase from 2008, according to a Pew Research Center report.
That gain is largely driven by individual giving to stations, which shot up 30% in the nine years tracked by Pew.
The majority of revenue for public radio stations comes from individual and corporate contributions. Government funding makes up about 5% of station finances.
While money is flowing in the public radio space, per Pew, commercial radio revenue has declined along with other media sectors.
"The public radio stations have evolved to become more like commercial radio stations in having a clear business model," Harrison said.
That model of fundraising and soliciting donations from individuals and companies, Harrison added, is more successful than garnering traditional advertising revenue.
Operating revenue at KCRW, an NPR station, climbed to $25.5 million in 2018, a 5% increase from 2015.
The gain helped the station generate the money to leave its longtime basement office at Santa Monica College and move into a new $22 million headquarters on the college campus.
KPCC also saw revenues increase. The Pasadena-based station reached a record revenue of $33 million in 2016 before falling back to $27 million in 2017, according to the station's tax returns. The increased revenue has helped soak up any additional expenses from unionized employee salaries and benefits, which hit $18 million in 2017.
"We have a good working relationship with the union, and it has not negatively affected our business or our membership," said Herb Scannell, chief executive of Southern California Public Radio, which operates KPCC. "The union is a staple of our good work environment, and management meets regularly with our shop stewards to discuss ways to improve our relationships."
Unionizing wave
Until 2013, union representation was limited in the sector. NPR headquarters in Washington, D.C., had been organized by SAG-AFTRA in 1976. The only NPR affiliate to organize was KNKX-FM (88.5) in Tacoma, Wash., in 1998.
But in the last six years, public radio workers organized in San Diego, Boston, Chicago, Minneapolis, Seattle, New York and Baltimore in addition to Santa Monica and Pasadena.
Stations unionized because many "experienced expanding newsrooms and changing job duties," according to SAG-AFTRA spokeswoman Pamela Greenwalt.
"SAG-AFTRA has kept up with the interest by devoting resources to support the organizing," Greenwalt added. She said that employees, not the union — which counts 160,000 members — were behind the organizing drives.
Unionized public radio employees, who requested anonymity, said that a workday with more manageable hours was a key reason to form collective bargaining units. Another reason was to curb tasks that had been farmed out to temporary workers and interns.
There have been a few rough spots between NPR headquarters and the union, including contract negotiations two years ago when talks nearly reached an impasse over the minimum payment for new employees.
Unionized affiliate stations, meanwhile, have not experienced any comparable disputes so far.
"In some cases, there has been resistance to organizing," Greenwalt said. "But the friction has only been temporary, and relationships with management have grown more collaborative as they've matured."
For reprint and licensing requests for this article, CLICK HERE.