Girl Scouts: Changing Perspective, Changing the World
Custom Content by the Los Angeles Business Journal
Tuesday, July 2, 2019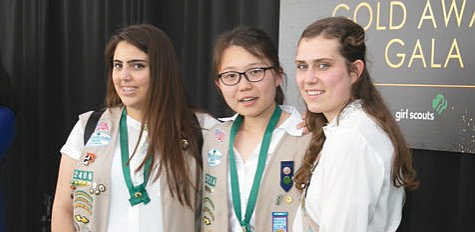 Girl Scouts view things a little differently. We call it seeing the world through green-colored glasses: not just making a mark, but making a difference.
When examining community issues with an optimistic and empathetic lens, these girls—47,000 in Greater LA—are the first to ask how they can help or lead others in finding sustainable solutions.
As the largest girl-focused nonprofit in Southern California, Girl Scouts of Greater Los Angeles (GSGLA) prepares girls in grades K–12 to defy expectations and embark on a lifetime of leadership through access to impactful experiences, programs, and connections.
We set girls up for success by engaging them in activities that are girl-led, cooperative, and hands-on. As each girl progresses through our program, she collects a treasure trove of skills that help her shine. Her experience culminates when she becomes a Gold Award Girl Scout. Here in LA, a whopping 326 girls achieved the Gold Award rank in 2019 (the largest class in the nation) by leading largescale projects that provide lasting solutions to local, national, or global issues.
Below are a few examples of LA Gold Award Girl Scouts who are challenging others to join them in both envisioning and working toward a brighter future:
LISA LU – ADVOCATE
Lisa aims to prevent teenage smoking on a global scale through legislative reform and educational awareness. Her Girl Scout Gold Award project grew into a nonprofit with 200 members representing countries around the globe, including Canada, China, Pakistan, and the United States. Internationally, 3,000 youths were exposed to the campaign. Lisa testified at the California State Capitol as an advocate for tobacco prevention bills, both of which passed and went on to impact 3.5 million adolescents in California.
SARAH ANDREWS – ACTIVIST
For her Gold Award project, which grew into a nonprofit, Sarah spread awareness about plastic pollution in the ocean and is continuing to work to ban single-use plastic items. She implemented education about the hazards of containers made from polystyrene and plastic straws, creating a Debris Science Investigation Kit for Burbank schools. She also made her case to elected officials and petitioned for a ban on #6 Polystyrene single-use products in the City of Burbank, on which the city council will vote in October.
ELAINA MARRIOTT – EDUCATOR
Elaina earned her Gold Award for creating a library at Los Angeles' largest juvenile hall, where inmates previously had no access to books. The project not only helps promote juvenile literacy, it also aims to lower recidivism rates, as literate juveniles are less likely to be reincarcerated. After collecting more than 1,200 book donations, Elaina transformed an existing room into a library and reading space. She also met with teachers working with youth inmates to ensure the sustainability of her literacy program.
In Girl Scouts, taking charge means taking action. Aren't these the leaders our world needs?
Melanie Larsen is Senior Communications Manager for Girl Scouts of Greater Los Angeles. Learn more at girlscoutsla.org.
For reprint and licensing requests for this article, CLICK HERE.