CUSTOM CONTENT: Tips for a Successful Leadership Transition
Trusted Advisors
Tuesday, July 2, 2019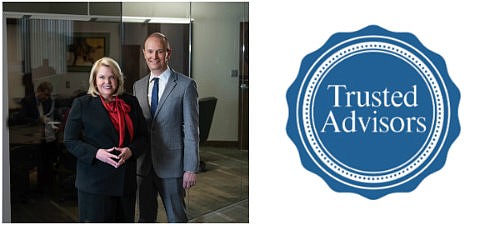 It can be hard to let go. Whether it's your own business, or you've been entrusted with leading a business, you invest so much to ensure its success. When it's time to move on, you want to not only make sure the impact of all your hard work carries on, but also that the transition is as seamless as possible.
At First Bank, succession planning is one of our areas of expertise. With four generations of single-family ownership, we uniquely understand the importance of a smooth transition. We've recently rolled out our own leadership transition. Last year, we announced Chief Executive Officer (CEO) Tim Lathe would step down. In May of 2019, Shelley Seifert, President, FB Corporation, took the helm as CEO.
We leaned on our 100-plus years of experience to help ensure this transition in our leadership was a success. Below are four key considerations to help businesses ensure a seamless transition.
1. TRANSPARENCY
Leadership must demonstrate there is an openness to communicate with employees. A transition brings with it a lot of questions and employees need to be given the opportunity to understand what changes they can expect. In order to make its transition as transparent as possible, First Bank conducted a series of town halls with Seifert and Lathe in which they met with employees to address their concerns. First Bank made a point to outline the strategic positions of both the outgoing and incoming CEO, and explain any changes employees can expect. Having an open, honest dialogue with employees helped them feel better prepared.
2. CHEMISTRY
A strong partnership between the new and outgoing leader is critical to an effective transition. The relationship between the two sets the foundation for new management. The incoming leader must be prepared to take control of the company and understand the corporate culture. The outgoing leader is best equipped to provide this support as well as gain organizational buy in for his or her successor. The absence of a symbiotic relationship between leaders can create fear of change. Prior to the announcement of the CEO transition, First Bank had experienced a period of change, rolling out a renewed strategic plan in 2014, which was again refreshed in 2017. It was important to demonstrate to employees that the company would remain stable under new leadership. The positive relationship between the current CEO and his successor instilled that confidence across the organization. Although there won't always be a well-established relationship between the incoming and outgoing CEO like in First Bank's case, the outgoing CEO must be invested in the transition and support the candidate throughout the process.
Prev Next
For reprint and licensing requests for this article, CLICK HERE.