Economic Forecast & Trends 2019: Port of Long Beach Embarks on Monumental Year
Custom Content by the Los Angeles Business Journal
Thursday, January 31, 2019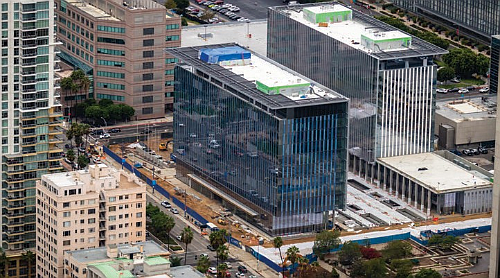 The Port of Long Beach is indeed embarking on what is shaping up to be a monumental year.
Moderate cargo growth is anticipated through 2019 as the nation's second-busiest seaport achieves major milestones on projects that will bolster economic development, increase reliability of service and improve air quality for decades to come.
International trade touches the lives of everybody. It impacts what products we can buy, what they will cost, who will make them, and where they are made.
"The Board of Harbor Commissioners endeavors to ensure that the Port serves Long Beach and the nation as a major pipeline for imports and exports," said Tracy Egoscue, President of the Long Beach Board of Harbor Commissioners. "We do this while being a good neighbor and operating the Port in a green and sustainable manner."
"With our many projects, we're planting the seeds so this region thrives, and so Long Beach remains a great place to live and work," said Mario Cordero, Executive Director of the Port of Long Beach. "We're modernizing to keep the Port competitive, to attract cargo and generate jobs."
Following record-breaking cargo volume at the Port in 2018, container growth in 2019 may continue. The growth is expected to be moderate given the ongoing uncertainty posed by the trade war between the United States and China. China accounts for nearly 70 percent of the imports coming into Long Beach and 40 percent of the exports.
"Count us among the optimists," Cordero said. "With so much at stake on both sides of the Pacific, we believe the United States and China can resolve their differences and keep our respective economies growing."
Long-term prospects remain bright for the Port, which supports more than 300,000 jobs in Southern California and about 1.4 million jobs nationally.
A return to the waterfront is anticipated this summer, when the Port moves into its new Civic Center headquarters in downtown Long Beach. Located next door to the new Long Beach City Hall and a new library, the Port Administration Building will be an extremely accessible, highly attractive showcase of government services.
"We're proud to be part of the downtown renaissance," Cordero said. "It's exciting to see our offices bringing more jobs back to the downtown area."
The downtown skyline is being further redefined by the replacement for the Gerald Desmond Bridge, which rises more than 200 feet over the Port's Back Channel. Standing 515 feet tall, the bridge's twin concrete towers are already the tallest points in Long Beach.
For reprint and licensing requests for this article, CLICK HERE.
Prev Next