Economic Forecast & Trends 2019: Multifamily Development Remains Strong
Custom Content by the Los Angeles Business Journal
Thursday, January 31, 2019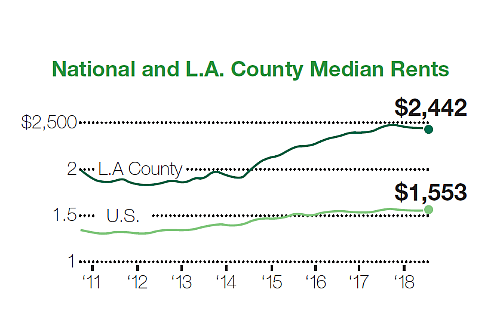 Over the last ten years, we have seen a consistent increase in multifamily development projects and apartment building construction. However, despite an increase in supply, the valuation of multifamily assets still continues to rise. While this is undoubtedly a positive, investors cannot help but wonder; is this all too good to be true? Can this long run of apartment building cap rate compression possibly continue or is its inevitable decline right around the corner?
And while the fear of a market correction may persuade investors to move on to another asset type, we believe that all this anxiety amounts to little more than empty chatter. Multifamily units are still a fantastic investment, vacancies will remain low, and rents will continue to increase for many years to come.
The numbers don't lie. Apartment rents have increased consistently for the past nine years, and they show no signs of slowing down. For six out of the past eight years, we have seen a 3% increase in prices year over year, with the remaining two years coming in only slightly under that 3% mark. The cumulative effect of these increases has resulted in a 31% increase in rental prices from January 2011 to today. To put this in dollars and cents, an apartment that once rented for $1,495 as little as eight years ago, now rents for close to $2,000. That is a staggering, historic increase.
Many factors have led to this increased demand for multifamily assets. Population size continues to grow across the board, which inevitably leads to a shortage of housing options, namely apartment rental units. Though construction rates continue to rise, the demand has well surpassed the supply, leading to a severe imbalance and a shortage of units. It all boils down to Economics 101; the demand has outweighed the supply. The result? Higher rents and more return for investors.
Another consideration that has led to this market shift is an evolving lifestyle for a majority of Americans and various cultural trends. It's quite posh right now to discuss the millennial generation and the impact they've had on the market, but this change has been affected by far more than just one generation. For those that lived through the Great Recession, the thought of owning a home and being solely responsible for a mortgage is utterly daunting. Therefore, the freedom that comes with renting becomes all the more attractive when viewed under the context of the housing crisis. Why stay stuck in a mortgage for 15, 20 or 30 years when renting affords you the mobility to change cities, careers, square footage and amenities? This fear of the housing market is very real, and the numbers back it up. In Los Angeles alone, home ownership has plummeted to a record low of 49%.
For reprint and licensing requests for this article, CLICK HERE.
Prev Next