Saban Trades Power Rangers for Panavision
Billionaire sells rights to cult TV hit, taking camera co. public
Friday, January 25, 2019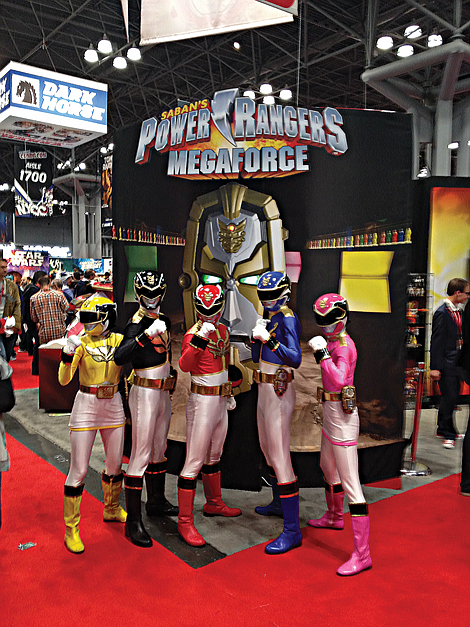 Last year Haim Saban sold a kids brand that exploded in the 1990s and bought a movie equipment-maker that made its name in the 1950s.
Saban's $522 million sale of the Power Rangers and other intellectual property to Hasbro Inc. in May was not linked to Saban buying Panavision Inc. in September, stressed Adam Chesnoff, president of Saban Capital Group, Saban's main investment vehicle.
The deals do, however, indicate the 73-year-old Saban, who was not made available for an interview, continues to restructure his investment portfolio in ways off the beaten path.
Saban made his fortune from the Power Rangers, "But he decided there's only so much you can squeeze out of that orange," said Lloyd Greif, founder and chief executive of investment banking firm Greif & Co.
By acquiring Panavision, plus post-production studio Sim Video International Inc. for a total of $622 million through Saban Capital Acquisition Corp., a special purpose acquisition company, Saban has bet there is comparably more to squeeze from a motion picture market that has increased its output of original content in recent years.
Toy sale
Saban, who had a net worth of $4.3 billion prior to the Power Rangers and Panavision deals, according to Business Journal calculations, came upon the Power Rangers concept while staying at a Japanese hotel.
He was transfixed by a cartoon showing five children in different colored spandex suits fighting monsters and, by 1993, engineered the "Mighty Morphin Power Rangers" debut on Fox Broadcasting Co. Inc.
The live-action version of the Japanese cartoon was an instant hit – with millions of Power Ranger action figures sold, and in 2001, Saban sold the Power Rangers' usage rights to Walt Disney Co.
Disney, though, never prominently featured the Power Rangers, and Saban bought back the Power Rangers rights in 2010 for $60 million.
He also created in 2010 Saban Brands to manage the Power Rangers and other child-focused intellectual property.
Saban Brands worked to revive Power Rangers' visibility, according to Chesnoff, including placing the show on cable TV channel Nickelodeon and releasing a 2017 Lions Gate Entertainment Corp. "Power Rangers" movie.
Pawtucket, R.I.-headquartered Hasbro entered the picture in early 2018 with the announcement it would license all Power Rangers toys.
"Soon after entering into our licensing agreement, it became clear that there was significant opportunity for Power Rangers across the entire Hasbro brand blueprint," said Crystal Flynn, a spokeswoman for Hasbro.
Hasbro announced in May the outright purchase of Saban Brands, whose properties also include My Pet Monster and Luna Petunia, for $252 million in cash and more than 3 million shares of Hasbro stock, valued at $270 million.
The deal closed one month later, and the consensus among the toy industry is that Saban maximized the value of the brand in the years since he repurchased it from Disney.
"The Power Rangers are a quiet but solid performer," said Christopher Byrne, a toy industry consultant for New York City-headquartered Byrne Communications Inc. "But the cultural frenzy around them is not something we're going to see again."
Panavision vision
The 65-year-old, Woodland Hills-headquartered Panavision dealt with years of debt and unresponsiveness to digital equipment developments.
By 2012, Panavision had begun to change course, including hiring Kim Snyder away from now-defunct Kodak Entertainment as chief executive. Snyder, who will retain her position with the reconfigured company, kept Panavision afloat with a series of moves: The company cut expenses, added new contracts with studios to use the company's camera and editing equipment for higher-end movie and TV shows, and took advantage of the swell in demand for content to increase revenue.
It is this jump in the amount of original content – largely due to original programming produced by streaming platforms – that informed Saban's deal pitch to investors.
A Saban Capital Acquisition Corp. note to investors from September asserts that in 2001 there were 182 widely distributed movies and TV shows, and the number leaped to 487 by 2017.
Panavision and Sim, a Toronto-headquartered outfit, can together create "end-to-end production and post-production services in the entertainment industry," according to the note.

Saban is spreading the risk of his bets, Greif said, by creating a special purpose acquisition company, which raises money by selling shares on the public market in order to buy at least one company.
Saban Capital Acquisition Corp. was founded in 2016 and raised $55 million from a public offering at $10 per share, informing share purchasers it was seeking to buy any media and entertainment companies that could flourish in the public market.
The Panavision and Sim combined acquisition was made with that $55 million, plus $250 million cash in trust from Saban Capital Group, a $235 million debt raise, and a $113 million combined equity stake from Panavision and Sim.
The deal has not closed, four months after it was announced.
The federal government shutdown has slowed deal-closing efforts, said Panavision spokeswoman Judy Doherty, but "Nothing untoward has transpired from our original plan." Doherty said the deal is expected close in mid-March.
Doherty and Chesnoff declined comment on what needs to be done to close the deal, which when consummated will see the company publicly traded on the Nasdaq under the Panavision name.
For reprint and licensing requests for this article, CLICK HERE.