UPDATE: USC Board Flap: Roski Chastised Caruso Over Meeting Conduct
Originally published January 16, 2019 at 5:50 p.m., updated January 21, 2019 at 5:44 p.m.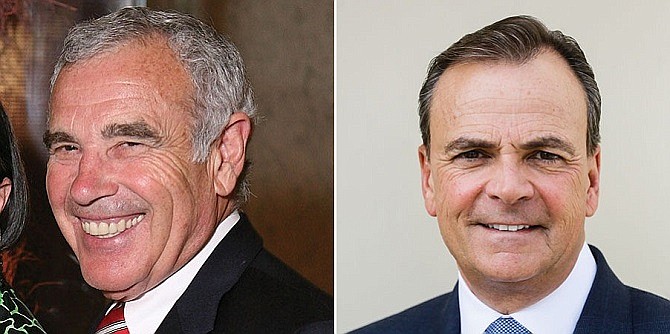 Note: This story has been updated to include an excerpt to letter from USC board member and Fulgent Genetics Inc. Chief Executive Ming Hsieh, as well as a link to his letter.
USC board member and industrial development tycoon Edward Roski Jr. chastised fellow developer magnate and USC Board of Trustees Chair Rick Caruso for his conduct in running the board meeting in early December at which the board upheld the decision to cut short the contract of Marshall School Dean James Ellis, according to a letter obtained by the Business Journal.
The letter alleged that in running the Dec. 12 board meeting, Caruso cut short the speaking time of a board member who has supported retaining Ellis and urged that Caruso apologize to that board member and to the board as a whole for his conduct.
"You abused the trust and authority vested in you by removing a trustee from the meeting for no discernable reason other than their position differed from your own," Roski said in the letter.
The letter went on: "By preemptively silencing a Board trustee, a trustee armed with the facts you deliberately chose not to make readily available to the rest of the Board, you ensured that your agenda would dominate the discussion and made the vote a foregone conclusion. Instead of damping the controversy, you stoked it. This is not leadership, this is manipulation. … Your irresponsible actions have lowered yourself, the Board and the very University we are here to serve."
The letter from Roski, who ranked No. 9 on the Business Journal's 2018 Wealthiest Angelenos list with a net worth calculated at $5.3 billion, was sent to Caruso on Dec. 19, one week after the board meeting. Roski in the letter called Caruso's behavior at that meeting unprofessional, saying Caruso cut short the speaking time and ordered escorted out board member and Fulgent Genetics Inc. Chief Executive Ming Hsieh, a supporter of Ellis. The letter concluded with Roski urging Caruso to apologize to Hsieh and the board.
Caruso, who ranked No. 13 on the Business Journal's 2018 Wealthiest Angelenos list with a net worth calculated at $4.8 billion, issued a statement in response to the letter. In his response, Caruso said that the decision to ask Hsieh to leave was made because of a conflict of interest: Hsieh is represented by the same attorney – Skip Miller of Miller Barondess – as Ellis.
"Any implication that there was another reason for this decision is erroneous," Caruso said in the statement.
Hsieh, in a separate letter dated Jan. 11 and sent to Caruso at the headquarters of his development company, said Caruso used a "phony pretext" to oust him from the meeting.
"Adding insult to injury, you ousted me from the Board meeting on a phony pretext after limiting me to speaking for literally one minute. You effectively prevented me – a Trustee who has given his all and millions of dollars to USC – from speaking his (sic) mind on this very important issue. Your action was arbitrary, discriminatory and contrary to everything the University stands for – openness, free speech and the interchange of viewpoints; and it's also rude and hurtful."
The letters provide a behind-the-scenes glimpse at what transpired during the USC board's Dec. 12 meeting, where trustees voted to uphold interim President Wanda Austin's decision to terminate Marshall School of Business Dean Jim Ellis' contract three years early in June. Austin cited a report that criticized Ellis' handling of discrimination claims against other faculty members at the Marshall School as the reason behind her controversial decision.
The board vote followed days of protests on the campus by Ellis supporters. Those supporters, including prominent donors such as investment banker Lloyd Greif, say Ellis himself did nothing wrong and that he has boosted the reputation and rankings of the business school. A petition calling for Ellis' reinstatement has garnered 3,700 signatures to date.
Education, energy, engineering/construction and infrastructure reporter Howard Fine can be reached at hfine@labusinessjournal.com. Follow him on Twitter @howardafine.
For reprint and licensing requests for this article, CLICK HERE.