Destination Arizona: Four Amazing Arizona Trilogy Communities, Limitless Lifestyle Opportunities
Custom Content by the Los Angeles Business Journal
Monday, January 7, 2019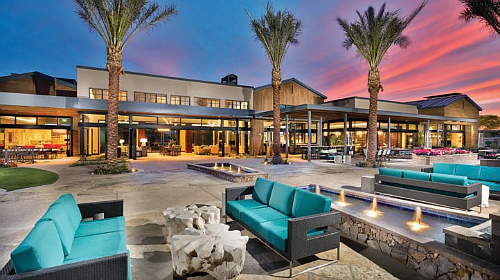 What's not to love about Arizona? With sunny skies all year long and a fun, active outdoor lifestyle, it's no wonder so many homebuyers choose to spend the best years of their life at a Trilogy Arizona community! Here are a few favorite aspects of the AZ lifestyle:
More bang for your buck – Arizona offers a relatively low cost of living. You can buy a gorgeous home in a Trilogy community at a competitive price point.
Natural beauty – There's nothing quite like the pristine desert setting or a Southwest sunset. Sights like the Grand Canyon, Sonoran Desert, and the red rocks of Sedona are just a scenic drive away from the Arizona Trilogy communities.
Adventure – At Trilogy's Arizona communities, it's easy to get out and play. Ride nearby mountain bike trails. Meet up with neighbors for a daily walk or ride along the miles of Trilogy paths. Grab a paddleboard at Trilogy at Verde River's Outfitter and head to one of Phoenix's six greater lakes. This could be your reality!
The pampering – Trilogy has spectacular day spas at each Arizona Resort Club. That means you can pamper yourself without even having to leave the neighborhood!
Wine – Arizona is securing its place on the U.S. wine country map. The Verde Valley Wine Trail is a day trip from Trilogy communities and there are lots of wine activities offered at the Trilogy Resort Clubs.
Who is Trilogy?
Trilogy by Shea Homes offers amazing resort communities for discerning buyers who are entering a new chapter of life. This chapter is focused on rediscovering passions, embracing opportunities, and creating new lifelong friendships with people who are in a similar place in their own journeys.
Trilogy's Arizona Communities
In the Phoenix area, Trilogy has four communities:
Trilogy at Vistancia
Peoria, AZ | 55+ Community
Located in Phoenix's Northwest Valley, Trilogy at Vistancia has two incredible Resort Clubs, the Mita Club and the Kiva Club, which together total over ~46,000 square feet of amenities, including fitness facilities, a spa, multiple resort pools, a chef's kitchen, an artisan studio, sport courts, a taproom, championship golf course, and so much more.
Trilogy at Verde River
Rio Verde, AZ | 55+ and All Ages Community
Just east of North Scottsdale, Trilogy at Verde River borders the spectacular Tonto National Forest. Its tranquil location makes it hard to believe that it's also close to some of the area's finest shopping, dining, and nightlife. The new Verde River Golf & Social Club raises the bar for excitement. Amenities include the 18-hole golf course, Needle Rock Kitchen & Tap, stunning resort pool, Eddy's Poolside, Chef's Table private dining room, Helen's Kitchen chef's kitchen, Afturburn fitness center, Alvea Spa, a Courts & Sports Complex, and more.
Trilogy at Wickenburg Ranch
Wickenburg, AZ | 55+ and All Ages Community
Just approximately an hour drive from Phoenix is historic Wickenburg, a charming town and a quiet escape from the hustle and bustle of city life. The Wickenburg Golf & Social Club is the centerpiece of the community, with many amenities, including Big Wick and Li'l Wick Golf Courses, Jake's Spoon restaurant, The Vault private dining room, Sophie's Culinary Parlor, Afturburn fitness center, Alvea Spa, The Watering Hole bar, a Courts & Sports Complex, an impressive resort pool, the Outpost poolside bar and grill, and more.
Encanterra, a Trilogy Resort Community
San Tan Valley, AZ | 55+ and All Ages Community
Located in the desirable Southeast Valley, the all-ages Encanterra has an exclusive Trilogy 55+ enclave. Homeowners love the two Resort Clubs (La Casa and The Algarve), and the many amenities, including the private golf course, Bistro 1528 restaurant, The Vault private dining room, Explorations Café, La Cocina chef's kitchen, a pristine resort pool and adjoining poolside Solaz Grill, Mossa Athletic Club, Alvea Spa, a lap pool, an indoor exercise pool, a Tennis Center, outdoor dining spaces, and more.
Ready to Visit?
The best way to get to know Trilogy's Arizona communities is to see them in person! Plan a day to visit them all—and be sure to reach out to 877.295.4041 before you go so you can get a personalized tour, or visit TrilogyLife.com/AZ. We look forward to introducing you to The Good Life!
For more information, visit trilogylife.com/AZ
WARNING: THE CALIFORNIA BUREAU OF REAL ESTATE HAS NOT QUALIFIED, INSPECTED, OR EXAMINED THIS OFFERING, INCLUDING, BUT NOT LIMITED TO, THE CONDITION OF TITLE, THE STATUS OF BLANKET LIENS ON THE PROJECT (IF ANY), ARRANGEMENTS TO ASSURE PROJECT COMPLETION, ESCROW PRACTICES, CONTROL OVER PROJECT MANAGEMENT, RACIALLY DISCRIMINATORY PRACTICES (IF ANY), TERMS, CONDITIONS, AND PRICE OF THE OFFER, CONTROL OVER ANNUAL ASSESSMENTS (IF ANY), OR THE AVAILABILITY OF WATER, SERVICES, UTILITIES, OR IMPROVEMENTS. IT MAY BE ADVISABLE FOR YOU TO CONSULT AN ATTORNEY OR OTHER KNOWLEDGEABLE PROFESSIONAL WHO IS FAMILIAR WITH REAL ESTATE AND DEVELOPMENT LAW IN THE STATE WHERE THIS SUBDIVISION IS SITUATED. Sales: Shea Communities Marketing Company (AZ DRE #CO001121000); Construction: SHALC GC, INC. (AZ ROC# 291056). Trilogy at Vistancia, Trilogy at Encanterra and select neighborhoods at Trilogy at Wickenburg Ranch and Trilogy at Verde River are intended for occupancy by at least one person 55 years or older, with certain exceptions for younger persons as provided by law and the governing covenants, conditions and restrictions. This is not an offer of real estate for sale, or a solicitation of an offer to buy, to residents of any state or province in which registration and other legal requirements have not been fulfilled. Trademarks are property of their respective owners. A PUBLIC REPORT IS AVAILABLE ON THE STATE REAL ESTATE DEPARTMENT WEBSITE. Trilogy at Verde River: Golf course is planned to be private. Owners must purchase a separate golf membership from the course owner. Equal Housing Opportunity.
For reprint and licensing requests for this article, CLICK HERE.