Destination Arizona: Boulders Resort & Spa is a One-of-a-Kind Destination
Custom Content by the Los Angeles Business Journal
Monday, January 7, 2019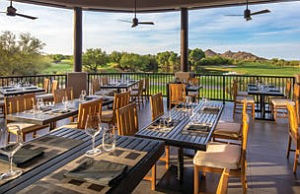 Few golf resorts in the world can match the extraordinary natural setting of the Boulders Resort & Spa in Scottsdale, Arizona. Twelve million years ago, a geologic eruption left a series of rock formations that gives this legendary resort its distinctive look.
The two championship Jay Morrish-designed golf courses blend perfectly with the surrounding landscape and each course offers unmatched beauty of magnificent desert panoramas in the shadow of the unspoiled, ancient boulder formations. The North Course is par 72 with five sets of tees measuring in distance and slope 6811 yards/137 slope. The South Course is par 72 with five sets of tees measuring in distance and slope 6726 yards/140 slope. A three-story high boulder on the seventh hole of the South Course sits precariously atop a tiny one, just an arm's length from golfers on the tee, while giant saguaro cacti stand like guardians. Indigenous plants like palo verde, mesquite trees, and varieties of cactus with vibrant flowering colors, add to the eye-popping setting throughout the resort's 1,300 acres.
The resort's signature hole is No. 5 South; where the green is carved from a dramatic rock outcropping, make it one of the most photographed holes in the country. It plays right up to the backdrop of a dazzling spectacle called the Boulder Pile, a massive group of rocks dotted with tall saguaros.
Don't be surprised to see spectators on the golf course. No, not gallery-type spectators, these are wildlife––quail, cottontails, roadrunners, and maybe a friendly bobcat or coyote––that make their homes in the desert. As you can imagine, the Boulders has received dozens of awards and such recognition is proudly accepted and appreciated.
The Boulders Golf Academy offers private, one-on-one instruction with talented PGA and LPGA instructors. Customized golf events include glow night putting competitions, "Dine & Dash" golf programs, and more.
While staying at the Boulders Resort, guests embrace the peaceful environment where you feel like you are a million-miles-from everywhere—at a place where you can relax in "splendid seclusion" with four swimming pools and a staff that makes you feel special with their desire to provide unsurpassed service.
Private Casita accommodations and 1-3 bedroom Villas include wood-burning fireplaces (a rarity at Arizona resorts) with private patios and breathtaking panoramic views.
The Boulders Tennis Garden offers eight premier cushion and asphalt courts-- even pickleball. If you want to take your game up a notch, tennis professionals conduct private instruction and clinics.
Prev Next
For reprint and licensing requests for this article, CLICK HERE.