UCLA-Derived Bruin Biometrics Wins Federal Clearance to Sell Bedsore Scanner
Thursday, January 3, 2019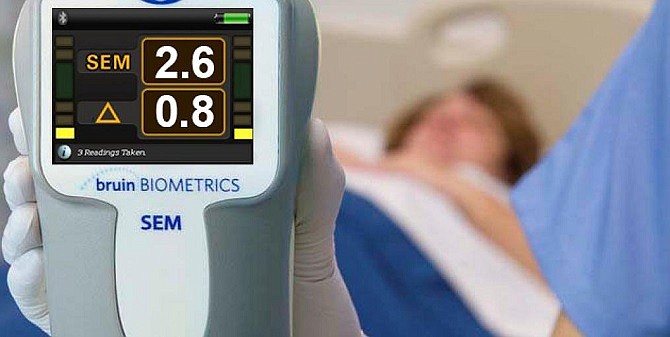 Bruin Biometrics, a UCLA medical device spinoff based in Westwood, has been granted federal clearance to sell a wireless scanner to detect bedsore risk, the firm announced Jan. 3.
The U.S. Food and Drug Administration authorized the sale of the company's SEM Scanner, a handheld portable device that can assess increased risk for pressure ulcers, or bedsores.
The Sub-Epidermal Moisture Scanner is the first device to spot potential bedsores in a patient's heels or sacrum before damage result to the skin, according to the company. The award-winning device was cleared by regulators for commercial use in Europe and Canada in 2014 and 2016, respectively.
"Objective, scientific data from the SEM Scanner can give clinicians confidence to take action and intervene with methods to prevent pressure ulcers," said Barbara Bates-Jensen, a professor at the UCLA School of Nursing and its School of Medicine and a co-inventor of the SEM scanner, said in a statement.
The FDA authorized the sale of the SEM Scanner under a so-called de novo review process to clear devices that don't resemble others on the market. It resulted from a 2017 clinical trial of nearly 200 patients at risk of bedsores at a dozen hospitals and nursing homes in the U.S. and the United Kingdom.
A Bruin Biometrics initiative helped the U.K.'s National Health Service to reduce the incidence of bedsores at acute care hospitals to zero, according to a report, for an equivalent savings of nearly $65,000 a month.
Pressure ulcers cause severe pain, disfigurement or infection in 2.5 million U.S. patients a year, while claiming the lives of 60,000 Americans, according to the Agency for Healthcare Research and Quality. Bedsores cost the U.S. health care system up to $11.6 billion.
Bruin Biometrics, founded in 2009, develops wireless devices for the early detection and monitoring of chronic and preventable medical conditions.
The privately held firm was spun out of UCLA and its Henry Samueli School of Engineering and Applied Science and Wireless Health Institute by cofounders William Kaiser, Majid Sarrafzadeh, Joseph Boystak and Michael Flesch.
Health business reporter Dana Bartholomew can be reached at dbartholomew@labusinessjournal.com. Follow him on Twitter @_DanaBart.
For reprint and licensing requests for this article, CLICK HERE.