Consumer Goods & Retail Report: A Look at the Current Consumer Goods & Retail Landscape
Custom Content by the Los Angeles Business Journal
Wednesday, February 20, 2019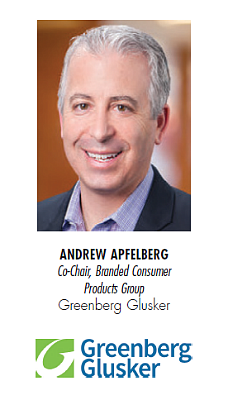 The world of consumer goods and retail has been heating up and has clearly become one of the fastest growing and most vibrant business sectors in Southern California. The landscape of managing such businesses has rapidly evolved as well – with laws, regulatory protocols, best practices, consumer and business needs and industry trends seemingly changing by the season.

To take a closer look at how the Consumer Goods & Retail landscape is shaping up in 2019, we asked Andrew Apfelberg, Co-Chair of the Branded Consumer Products Industry Practice Group at Greenberg Glusker to weigh in for a discussion.
What do you anticipate is ahead for retail in the US?
Apfelberg: We will continue to see an acceleration and expansion of the trends we have seen over the past few years. People will shop more and more on-line or in locally convenient plazas (rather than malls). Brick and mortar will need to become showrooms or provide something "extra" like personal shoppers or product specialists to advise or curate for customers. If the economy heads towards recession, the stronger brands will consolidate and even grow their position while the weaker brands or inferior products are at risk of dying out.
What sectors within consumer products are performing particularly well and why?
Apfelberg: Prestige and luxury brands, especially those that are social media savvy, have been performing well. By that I mean through sales, introduction of new products and enhancement of brand identity. Those that have effective celebrity endorsement campaigns have done even better. Additionally, companies getting products into stores like ULTA that are typically not located in traditional malls have been finding a very warm reception from numerous new audiences. Kylie Jenner Cosmetics has done that very effectively while maintaining its prior core audience.
Are there other sectors bubbling up under the surface that you think will see a surge in the near future?
Apfelberg: Functional products that cross category lines will continue to grow. A good example is what MoonJuice is doing through expansion of its food/beverage offerings into beauty. The concept of wellness from the inside-out really resonates. Another category that will do well is cannabis/CBD related food/beverage and health/beauty products. Aside from the changing legal landscape there is a significant growth of cultural acceptance and interest. I have had a huge increase in clients that are involved in or exploring this industry. Finally, auto care is another category that is on an up-swing. A strong player in that category is Smart Wax.
Prev Next
For reprint and licensing requests for this article, CLICK HERE.