The Consumer Goods Market: How Far Have we Come in a Year?
Custom Content by the Los Angeles Business Journal
Wednesday, February 20, 2019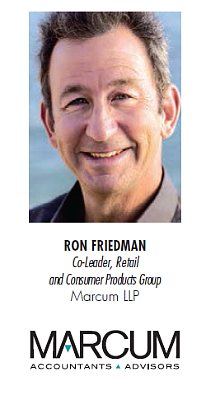 In February 2018, the Los Angeles Business Journal asked me to respond to a series of questions related to taking a closer look at how the consumer goods and retail sector is working. I think it would be interesting to look back at those questions and see how my answers compared to what really took place during 2018 and what we can expect to happen in 2019. Will the market continue to grow or will we have a slowdown in the economy?
The first question was what do you anticipate is ahead for retail in the US?
My prediction at the time was right on target, as we continue to see old, worn-out shopping centers being replaced by new shopping meccas that are vibrant with entertainment, restaurants, theaters, health clubs, and modern retail stores. What we are not seeing is shopping centers dominated by clothing stores; those days are gone for now.
How will the Trump administration impact the consumer goods landscape moving forward?
My prediction was the tax cut would give consumers more money to spend on merchandise, entertainment, and paying down debt. Even with all the ups and downs of the stock market over the final three months of the year, consumer confidence has been high, and the holiday season reflected very good retail results. Shopping centers were busy, and retail sales were strong for the year-end. In 2019, we can expect this trend to continue. I do not expect our economic growth to be as strong as last year, but consumers will continue to spend on entertainment, and restaurants should continue to see good results.
Are there other sectors bubbling up under the surface that you think will see a surge in the near future?
My predication was that online retailers were going to continue to grow at 15% per year, and they did hit that target. Millennials are the big online shoppers, and the iPhone and iPad will continue to drive the business. Online furniture sales are growing nicely, and that trend will continue. What I did not predict was the tremendous growth we've seen in the cannabis business. With more and more states approving the sale of cannabis products, the industry is in a rapid growth phase.
What are some of the best ways for a retailer to build its brand and elevate itself from the competition?
My opinion from last year is that nothing ever stays the same. The retailer and manufacturer must be innovative in their approach to growing their brands. We live in a time where social media is a must. Know your customers and understand how they will respond to your marketing campaigns. I am a true believer in hiring the right professionals to help you grow. Public relation firms will help those companies that cannot do this internally, but PR is a must for any business that wants to brand itself. The more contacts you have with the customer, the great the chance for a sale.
Also, stay ahead of the curve and change as your customer changes. Today's product will not be tomorrow's product. I like to tell the story of a client of my firm that manufactured a lady's pant that was the hottest item in the market at the time. The company grew steadily on just this one pant, and the customer kept buying it. The problem was that the customer got older and older, and eventually that generation of customers passed away. The company also passed away because it never adapted to a new customer. Change is necessary – today even more so than in generations past.
Now what can we expect for 2019?
Experience, entertainment, innovation are the three words that come to mind. This will be a continuation from 2018. The shopper wants an experience in your stores; they want to shop where they can be entertained and they want to see innovation. Retailers will have to make it easier for shoppers to buy. Such things may include shipping the product directly to the home or office on the same day. Music and wine and cheese parties for the customer are big winners. Private sales for your best customers before the general public are also big winners.
My concerns for 2019 are the potential interest rate increase by the Federal Reserve. One sure way to slow down the economy is to increase the cost of money. We also have tariffs that could have a major impact of the cost of products coming from China. As I am writing this article, the Chinese and U.S. representatives are negotiating a trade agreement to avoid an increase in tariffs. I expect some good results from these negotiations, but any negative results will have a major impact on our economy. Tariffs will increase the cost of everything, and you can bet the importers will pass on some of this cost to consumers, thus reducing potential sales.
Until next time, have a great and a prosperous year. As I always say, if you are not having fun, then go do something else.
Ron Friedman is Co-leader of Marcum's National Retail & Consumer Products Industry Group at Marcum LLP.
For reprint and licensing requests for this article, CLICK HERE.