Real Estate Turns to Tech
TECHNOLOGY: Brokers, landlords look for value add
Friday, February 15, 2019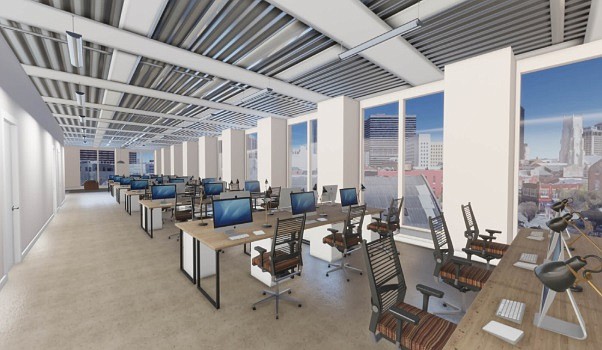 Leasing real estate assets in a high-growth market such as Los Angeles increasingly requires an assist from technology.
Both landlords and brokers are searching for innovative ways to perform old tasks more efficiently to maximize profits – and that's creating new demand for tech solutions.
"Property tech really has been getting a lot of momentum in terms of both deals and funds that are sector specialists here," said Chang Xu, principal at Upfront Ventures. "The industry is booming (and) I've been seeing more and more interesting concepts that blend together online identities and what happens in the physical world."

The numbers back up the Xu's assertion. Venture capital financing for real estate technology grew roughly 30.8 percent over the past two years to $3.9 billion in 2018 from $2.9 billion in 2016, according to industry tracker CB Information Services Inc.
CBRE Group Inc. broker Jeff Vertun attributed growth in the Los Angeles real estate technology sector to a southward migration of the mostly Silicon Valley-based FAANG firms (Facebook, Apple, Amazon, Netflix and Google) in the region.
"We've had major expansion from FAANG firms recently (and) it's increasingly important for companies that want to be competitive to have a major presence here," Vertun said. "Next-generation companies are all leveraging technology, and they live in this world where if you're not innovating, you're behind."
CBRE has moved quickly to keep pace and currently offers eight technologies to clients: software, including an asset portfolio manager; a lease calculator; a location intelligence system; and a transaction management system.
Vertun specifically pointed to the brokerage's acquisition for $6.4 million in January 2017 of Floored Inc., a New York-based developer of 3D spatial visualization software, as a turning point on the technology front for CBRE.
"Historically, you have to provide the files to an architect, and it takes a few weeks to put together a testing program, and it's a whole process," said Vertun. "(With Floored) you can model in 3D; you fly through the space and visualize and decide how you fit in it. That creates a lot of efficiency."
Artificial assistance
Without digital assistance like the help provided by Floored's technology, manual tasks can pile up and cut into a broker or property manager's time, eventually spreading them thin and driving up costs.
One of the biggest recent developments to help control costs and maximize efficiencies in the real estate industry is the rise of artificial intelligence. A.I. that can interact with clients and handle the work of multiple employees at once relieves pressure on managers and brokers, according to Roelof Opperman, a principal at Venice-based real estate venture capital firm Fifth Wall Ventures Management.
For reprint and licensing requests for this article, CLICK HERE.
Prev Next