OSCAR BUMP?
Special Report: Entertainment
Friday, February 15, 2019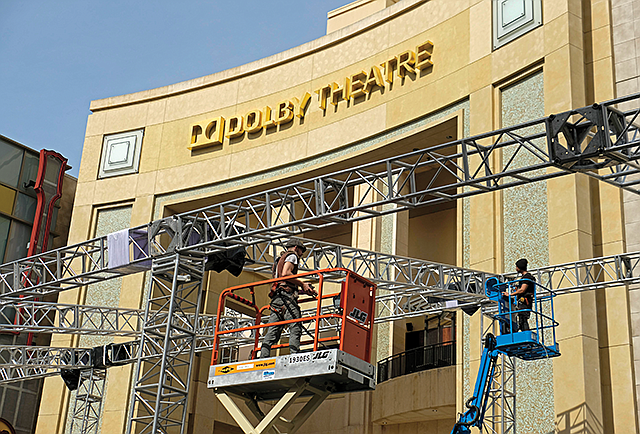 The worst night of the year for a Los Angeles movie theater owner?
It might be the evening of the Academy Awards, said Greg Laemmle, owner of the Sawtelle-headquartered Laemmle Theatres chain.
"It's almost shockingly dead," Laemmle said of his nine Los Angeles County movie theaters, which can see revenue declines of up to 70 percent compared to a typical Sunday night.
Globally, interest is waning in the yearly movie industry showcase – a record low 26.5 million people tuned into last year's Oscars program, telecast on ABC.
In Los Angeles, though, the Academy Awards remain a fixture, to the point other entertainment options on Oscar night are sparsely attended, and many venues do not book events at all.
A look at Los Angeles County's top 20 venues by capacity found that just two – the Regent Theater and Orpheum Theatre, both in downtown – had rival shows booked for Oscar night. The Regent is featuring two comedians, and the Orpheum has Christian rock artist Lauren Daigle performing.
One more venue, the Hollywood Pantages Theatre, has a special 1 p.m. showing of "Kinky Boots," a musical featuring songs written by Cyndi Lauper.

Another, the Hollywood Palladium, offers an Oscar viewing party at $1,000 per ticket.
Some of the biggest venues, such as the Greek Theater and the Hollywood Bowl, are not holding events throughout February, though that is attributable to a seasonal schedule.
But for others sites including the Staples Center, The Forum, Ace Hotel Theater, Fonda Theater and Wiltern Center, the lack of events is somewhat aberrant for a Sunday night.
"You would think that these venues would be doing counterprogramming," said Gigi Johnson, a music business professor at UCLA. "But I suppose it is a long-standing tradition, and they don't want to tempt fate."
The lack of shows and events on Oscar night is chalked up as a day lost for the venues, and, to an extent, the Los Angeles operations of Live Nation Entertainment Inc. and Anschutz Entertainment Group Inc., which book most of the town's events.
Venue operators referred questions to these companies; Live Nation could not be reached for comment, and AEG declined to speak.
Economic Oscar winners
The Academy Awards' dominance in Los Angeles has a complicated overall effect on what economic benefits the awards show, and its attendant celebrations and street closures, confer upon Los Angeles County.
The Oscars, which are on Feb. 24 this year, may benefit hotels, and tuxedo and evening gown companies, as multiple economic studies have noted.
For reprint and licensing requests for this article, CLICK HERE.
Prev Next