Academy Awards Parties a Culinary Affair
Special Report: Entertainment
Friday, February 15, 2019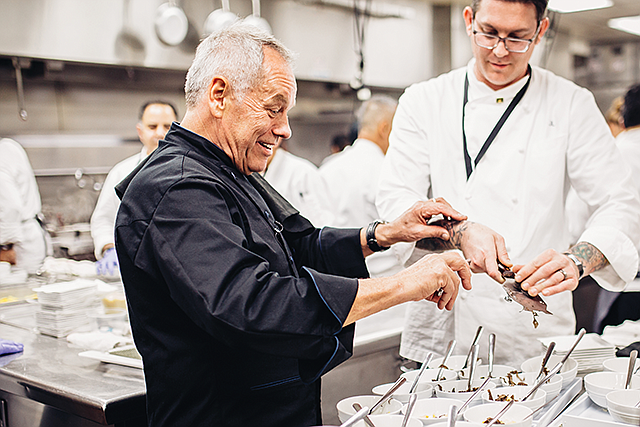 By DIANE HAITHMAN
As the Academy Awards approach, the cameras are focused not only on the stars, but on what will be on their plates at high-profile Oscar parties in Los Angeles.
It's a well-documented fact: Winning an Oscar can add substantially to the actor's salary for his or her next movie. An often-cited 2015 study conducted by movie analyst Stephen Follows said a Best Actor Oscar can add $3.9 million to the next contract, and a Best Actress win can add $500,000 (that disparity calls for an entirely different story).
While the numbers are less easy to calculate, Oscar may also raise the profile of a group of stars that will never be seen tearfully thanking the Academy during the broadcast. They are the chefs who cater A-list Oscar parties or hold those fetes at their own Los Angeles area restaurants each year.
That list includes the notable Vanity Fair party at the Wallis Annenberg Center for Performing Arts in Beverly Hills; the Elton John AIDS Foundation's viewing party fundraiser held at West Hollywood Park, and the biggest of the big, the Academy of Motion Picture Arts and Sciences' 91st Annual Governors Ball for approximately 1,600 guests at Hollywood's Dolby Theatre, catered for the past 25 years by Wolfgang Puck.
Food is of prime importance to guests after the long awards ceremony, joked Academy Governor Lois Burwell.
"People tend to go without food to fit into their dresses," she said. "They really are hungry when they show up."
Culinary cash
The payout to chefs with Oscar party cred is generally embedded in a larger overall catering fee determined by type of food and number of guests, so figuring out the chef's individual event salary gets complicated.
One expert said a typical caterer's fee in Los Angeles is $25 to $100 per head on the low end and $150 to $500 on the high end, but much like movie stars compared with average players, star chefs may command much higher fees to provide their gourmet menus. While the Academy does not reveal its budget for the Governor's Ball, Variety and other sources have pegged the party's cost at $1.8 million, with at least $300,000 for Puck's innovative cuisine.
It's even harder to parse out the profits when the party is held at that chef's restaurant, such as the high-profile InStyle Magazine Oscars party, held for a number of years at hotspot STK steak house at Westwood's W Los Angeles hotel, where Robert Liberato reigns as executive chef.
The same might be said for resident chefs of hotels that host a never-ending list of awards shows and parties. A prime example is the Beverly Hilton hotel in Beverly Hills, which in recent years has been the site for approximately 200 red-carpet events annually, including the Golden Globes telecast and preshow dinner. Executive Chef Matthew Morgan took charge there in March 2018.
However, experts agree that catering the goodies for a high-profile Oscar party provides a unique marketing platform not unlike that provided by TV's myriad of cooking programs hosted by celebri-chefs.

"When you think of Oscar after-parties, there's no question that the chefs and the event are mutually, and in some cases hugely, beneficial to each other," said Alan Reay, president of Irvine-based Atlas Hospitality Group. "It's almost priceless to have that kind of coverage from the press, the TV, media and everything else when you have an Oscar party at your restaurant."
Bottomline boost
Puck opened Spago, his first restaurant, in West Hollywood in 1982. Soon after, Spago became the site of late literary agent Irving Paul "Swifty" Lazar's exclusive annual post-Oscar bash, which was causing Governors Ball guests to duck out early to get there. The Academy answered by hiring Puck to cater its Governors Ball. In recent years, the ball has proffered appetizers, small plates, dessert tables and buffet items instead of a sit-down dinner in order to accommodate the see-and-be-seen roaming of the guests.
Carl Schuster, chief executive of Wolfgang Puck Catering Inc. in Hollywood, said the press surrounding that hire helped launch Puck to international stardom. "We still do receive a lot of press related to the Oscars and the Academy Awards and the Governors Ball,"
he said.
"We launched our catering company 20 years ago, and I would say being affiliated with that big party helped us launch our catering company," Schuster added.
Oscar parties have also offered a significant leg up to less celebrated L.A. chefs. Private chef Manouschka Guerrier, who for three years provided desserts for all of Weinstein Co. Inc.'s Oscar-related parties while working for Florida-based Sheila G.'s Brownie Brittle company.
Guerrier called those years the best of her career life. "Usually my events are like birthday parties and anniversaries. This was a whole different level," she joked.
Guerrier said the demand is so high that local caterers can quadruple their usual rates during awards season.
She added that up-and-coming caterers are often asked to show up at events for low pay, or to offer free samples with the promise that it will help build a career. That doesn't happen at Oscar time, she said, adding: "Having (Oscar) on my resume was awesome. It definitely got me to six figures."
From a prestige standpoint, Robert Phillips, president of ACF Chefs de Cuisine Association of California, said a chef serving an Oscar party compares to doing well in culinary competitions, such as the annual USC Culinary Challenge.
He added that high-end Oscar party budgets allow chefs the freedom to create and push boundaries without worrying about the price. "They demand more of us," Phillips said. "The culinary craftsmanship is pushed to unbelievable heights through their status and celebrity."
For reprint and licensing requests for this article, CLICK HERE.