LA BioMed Taps BioLabs
HEALTH CARE: Firm will run Torrance incubator space
Friday, February 8, 2019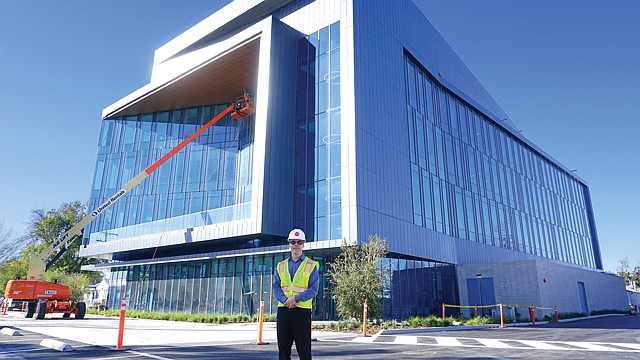 There may be only one requirement to set up shop inside the largest lab for fledgling biomedical firms in Los Angeles County: talent.
The Los Angeles Biomedical Research Institute wants to draw up to 30 first-rate companies to its 18,000-square-foot incubator set to open on its Torrance campus this spring. So it hired BioLabs – one of the nation's top operators of co-working spaces for life science startups – to reel them in.
"We think they will perform exceptionally well in helping us attract quality members and attract vital programming to make them successful," said Keith Hoffman, LA BioMed's vice president of business development and technology transfer. "We want quality companies to interact with other quality members as well as our own researchers to put out quality science."
The 67-year-old research institute is putting the final touches on the shared lab space within a $63 million medical research laboratory designed to house administrators, research scientists and bioscience startup companies.
The four-story research pavilion, sheathed in silver-blue glass, is poised to open in early April after two years of construction.
The building's entire third floor is dedicated to the incubator, which is being furnished with the latest lab equipment. Its shared lab benches, along with private offices and labs, will serve young companies as they develop the latest drugs and medical devices.
The newly named BioLabs LA BioMed will reside within the sprawling Harbor-UCLA Medical Center campus amid a rising tide of support for L.A.'s bioscience industry.
LA BioMed also opened a 2,000-square-foot wet lab incubator two years ago to host a half-dozen companies, which will still be run by LA BioMed. Together, both incubators can host around three dozen firms.
Los Angeles County, which helped finance the new incubator with a $3 million grant, has agreed to lease 15 acres to LA BioMed for a future biotech park. The institute is seeking a developer for the $250 million project, with plans to break ground this year on the first of what will be four buildings that can house incubator graduates.
"The takeaway message is that this whole campus will be entirely transformed," Hoffman said. "This will become the first major bio-cluster in Los Angeles County."
The project's momentum led Cambridge-based BioLabs – which operates incubators in eight cities from Boston to the Bay Area – to agree to run another in Torrance.
Advocates say it will be the largest bioscience incubator in a region with less than 10 available to young scientists trying to establish companies.
Prev Next
For reprint and licensing requests for this article, CLICK HERE.