LA BioMed Taps BioLabs
HEALTH CARE: Firm will run Torrance incubator space
Friday, February 8, 2019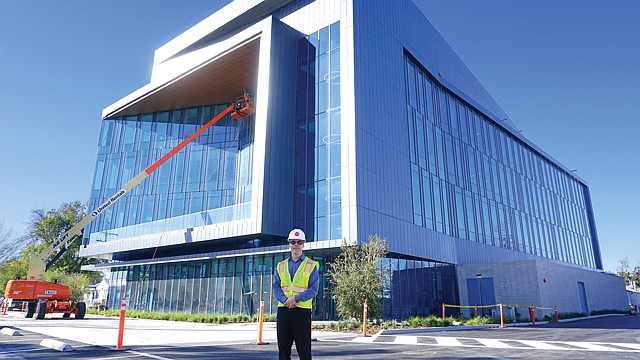 There may be only one requirement to set up shop inside the largest lab for fledgling biomedical firms in Los Angeles County: talent.
The Los Angeles Biomedical Research Institute wants to draw up to 30 first-rate companies to its 18,000-square-foot incubator set to open on its Torrance campus this spring. So it hired BioLabs – one of the nation's top operators of co-working spaces for life science startups – to reel them in.
"We think they will perform exceptionally well in helping us attract quality members and attract vital programming to make them successful," said Keith Hoffman, LA BioMed's vice president of business development and technology transfer. "We want quality companies to interact with other quality members as well as our own researchers to put out quality science."
The 67-year-old research institute is putting the final touches on the shared lab space within a $63 million medical research laboratory designed to house administrators, research scientists and bioscience startup companies.
The four-story research pavilion, sheathed in silver-blue glass, is poised to open in early April after two years of construction.
The building's entire third floor is dedicated to the incubator, which is being furnished with the latest lab equipment. Its shared lab benches, along with private offices and labs, will serve young companies as they develop the latest drugs and medical devices.
The newly named BioLabs LA BioMed will reside within the sprawling Harbor-UCLA Medical Center campus amid a rising tide of support for L.A.'s bioscience industry.
LA BioMed also opened a 2,000-square-foot wet lab incubator two years ago to host a half-dozen companies, which will still be run by LA BioMed. Together, both incubators can host around three dozen firms.
Los Angeles County, which helped finance the new incubator with a $3 million grant, has agreed to lease 15 acres to LA BioMed for a future biotech park. The institute is seeking a developer for the $250 million project, with plans to break ground this year on the first of what will be four buildings that can house incubator graduates.
"The takeaway message is that this whole campus will be entirely transformed," Hoffman said. "This will become the first major bio-cluster in Los Angeles County."
The project's momentum led Cambridge-based BioLabs – which operates incubators in eight cities from Boston to the Bay Area – to agree to run another in Torrance.
Advocates say it will be the largest bioscience incubator in a region with less than 10 available to young scientists trying to establish companies.
"It's a huge milestone for Los Angeles, to have a facility of this size and scope," said Dina Lozofsky, executive director of Biocom L.A., a trade group that serves as a statewide partner to BioLabs. "It gives us the recognition for the life sciences powerhouse that we are."
SoCal growth
BioLabs, founded a decade ago, aims to support a growing Southern California biotech ecosystem.
Three years ago, it opened a shared, move-in-ready laboratory in San Diego for startup firms and added a second shared office space there last fall. Since opening in 2016, BioLabs San Diego has helped nearly 50 companies get off the ground and grow.
BioLabs as a whole now has more than 200 companies within its co-working network and expects to grow this year to 300 companies with new incubators opening in New York and Los Angeles. Its motto: "Enabling awesome – one bench at a time."
"We're super excited about the L.A. ecosystem," said BioLabs co-founder Susie Harborth; she also serves as its chief operating officer and manager of the labs in San Diego. "L.A. has all the ingredients … academic institutions, (research) hospitals, capital and the big win."
That "big win" was the Gilead Sciences Inc. purchase 18 months ago of Kite Pharma Inc. for $12 billion.
Financial terms of the operating contract between LA BioMed and BioLabs were not disclosed.
Harborth also serves as chief financial officer of BioInnovation Capital, a $130 million fund to invest in companies within the BioLabs network.
Its competitors include such firms as Johnston & Johnston, which runs 11 premier JLabs incubators to support emerging companies in San Diego and around the globe.
"It'll be one of the highest startup densities in the entire county," said Hoffman, of the BioLabs incubator that will work alongside a major hospital and hundreds of LA BioMed scientists. "Synergy is everything.
"They will share ideas. Exchange science. Forge collaborations," Hoffman added.
Supporting cast
BioLabs said the idea for the incubator is simple: make life easier for bioscience startups.

Besides the years it takes to develop a drug or medical device, startup entrepreneurs must negotiate licensing agreements and find millions in capital while locating lab space and buying expensive equipment that includes microscopes, ventilators, freezers and chemical waste storage.
The BioLabs LA BioMed incubator will rent lab space for a $300-a-month membership, plus workstation costs that range from $200 to $2,000. A 6-foot bench with access to $1 million in specialized equipment could cost a startup scientist as little as $1,800 a month.
The lab will also offer programs that include access to venture capital, legal advice and mentors, among other offerings.

"It's beyond the bench," Harborth said. "We have very strong connection to the industry that these companies can leverage – including pharmaceutical companies, equipment suppliers, legal, a relationship with Biocom and investors."
An executive at the Southern California Biomedical Council, another Los Angeles trade group, said the BioLabs model may work if it's able to attract new companies.
"It's ambitious," said Ahmed Enany, SoCalBio's chief executive. "It's a lot of space for startups. The management has to be really top-notch and offering the right price. It will add value to startup companies and a community conducive to fostering innovation."
For reprint and licensing requests for this article, CLICK HERE.