Flying High
LA airports – and the airlines that serve them – see flights tick up in 2018
Friday, February 8, 2019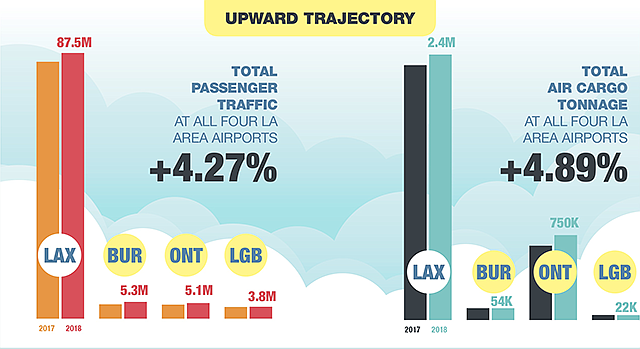 Passenger traffic at the four commercial airports serving Los Angeles County rose 4.3 percent last year, cumulatively surpassing 100 million passengers a year for the first time, according to figures released in recent weeks by each of the airports' operating authorities.
When adding up the passenger totals at Los Angeles International Airport, Hollywood Burbank Airport, Ontario International Airport and Long Beach Airport, the Los Angeles market now joins the Chicago, New York and Atlanta metro regions in the 100 million-plus air passengers per year club.
The 4.3 percent regional growth rate in airport passenger traffic was less than the national average growth rate of 5.6 percent, according to Michael Boyd, president of Boyd Group International, a Denver-based aviation consulting firm. Boyd said that's because the Los Angeles market has been well-served by airlines, whereas smaller markets throughout the country that have not been as well-served saw considerable growth as the economy has boomed.
Los Angeles International Airport was the biggest gainer numerically, as nearly 3 million more passengers went through its gates in 2018 for a total of 87.5 million, up 3.5 percent from 2017. Ontario International Airport was the biggest percentage gainer in passengers, up 12.4 percent to 5.1 million.
Hollywood Burbank Airport's passenger traffic growth was not far behind at 11.1 percent to 5.2 million. Lagging behind at 2.7 percent growth was Long Beach Airport, which was stung last year by dominant carrier JetBlue Airways Corp.'s decision to scale back operations there after failing to persuade the city to build an international customs facility at the airport.
Five of the top six airlines with operations at three or all four of the airports saw passenger counts increase; only JetBlue with its Long Beach cutbacks saw a drop.
Fort Worth, Texas-based American Airlines Inc. led total passenger counts at all four airports with 17.6 million passengers, up 3.3 percent from 2017. But No. 2 Southwest Airlines Co., of Dallas, closed some of gap, growing 5 percent to reach 17.2 million passengers.
Chicago-based carrier United Airlines Inc. gained the most numerically, up 941,000 passengers in 2018 to 13.7 million, followed closely by Southwest's gain of 831,000. Seattle-based Alaska Airlines Inc. saw the biggest percentage gain in passengers – 52 percent to 6.9 million – thanks to its merger in late 2017 with Virgin America Inc.
Air cargo tonnage at the four airports grew a cumulative 4.9 percent to reach 3.27 million tons, spurred mostly by a nearly 15 percent surge in freight at Ontario International Airport to more than 750,000 tons.
Looking ahead to the rest of 2018, Boyd said he expects a slower growth rate in passengers, especially at LAX. He noted that, so far, airlines have put in for a net 1 percent increase in seat capacity at LAX.
"It's still early in the year, but it's likely the L.A. Basin won't see another year of growth in airport passenger traffic as high as the 4 to 5 percent range," Boyd said.
For reprint and licensing requests for this article, CLICK HERE.