Star Turn
Tech: Elon Musk made plenty of progress — and headlines — on multiple fronts
Friday, December 13, 2019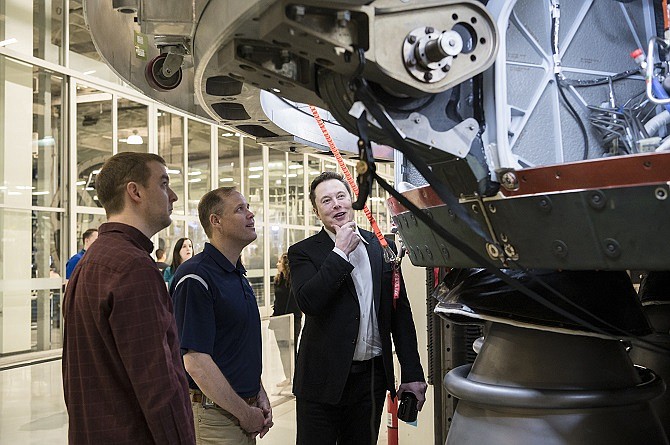 The Dragon — the only spacecraft capable of delivering and returning significant amounts of cargo between Earth and the International Space Station — arrived at the space station on Dec. 8 with 5,700 pounds of supplies and payloads.
It's the latest in a series of weighty accomplishments this year for Elon Musk and his team at Space Exploration Technologies Corp.
In October, Musk and NASA Administrator Jim Bridenstine told the public to anticipate a crewed test of the SpaceX Dragon capsule by early 2020, a key step toward the first American-launched manned spaceflight since 2011.
In addition to its crew mission program, the company is forging ahead with efforts such as building Starlink, an internet-capable infrastructure of more than 11,000 satellites, and developing a space vehicle, dubbed Starship, capable of carrying 100 people to Mars as well as "planet-hopping," as Musk calls it. Musk has predicted Starlink could generate $30 billion in revenue per year for SpaceX.
But 2019 also brought challenges for SpaceX, which has grown to about 6,400 employees since it was founded in 2002. In April, a Dragon capsule exploded during a static fire test, and in November, the company's Starship MK-1 prototype exploded on the launchpad at Space X's Boca Chica, Texas, facility during a routine test.
Musk's ambitious risk-taking may seem costly, but it has also produced long-term benefits, said Bloomberg Intelligence aerospace analyst George Ferguson.
"Much like Tesla, Musk is committed (to SpaceX) and ready to take losses to get into these businesses," Ferguson said. And, being a government contractor is a good source of revenue, said Ferguson. "He could end up being in a situation where he's too important to fail."
That status might help Musk continue his meteoric rise in the aerospace industry and in his net worth, which, at $22.6 billion, made him the Business Journal's Wealthiest Angeleno of 2019. Musk supplanted fellow billionaire Patrick Soon-Shiong at the top of the list.
Musk's other efforts are keeping him, well, grounded. Despite a solid year, reporting third-quarter revenue of $6.3 billion on Oct. 23, Musk's Tesla Inc. previewed new electric truck in November to mixed reviews.
Another endeavor, The Boring Co., is currently tunneling under the Las Vegas Convention Center as part of the company's $52.5 million underground people mover project.
Keep Reading: 2019 Year in Review Special Report
For reprint and licensing requests for this article, CLICK HERE.