Guess Charts Ambitious Path
Fashion: Retailer targets $3B in revenue by 2025
Friday, December 13, 2019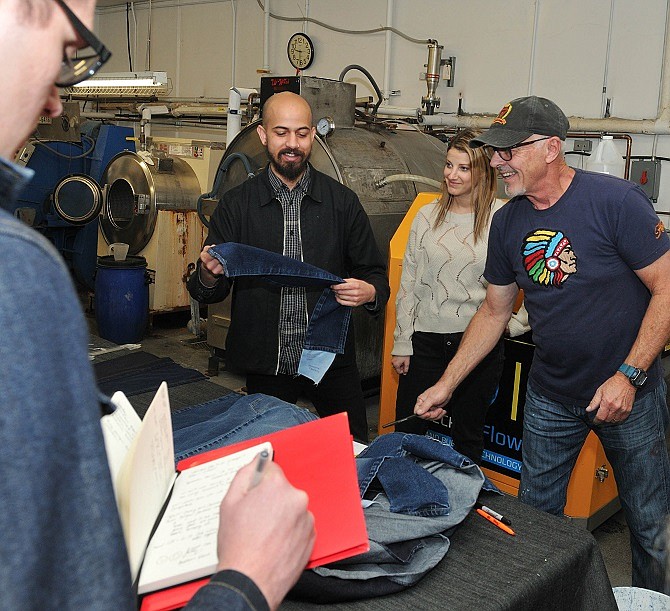 Guess Inc. Chief Executive Carlos Alberini, who returned to the company in February after a nine-year absence, didn't arrive empty-handed.
Alberini walked in with a veritable shopping cart of big ideas, lofty goals and an ambitious five-year revenue milestone, all designed to position the downtown-based company for success in a rapidly changing retail environment.
For starters, Guess has set its five-year revenue milestone at $3 billion. The company reported revenue of $2.6 billion last year.
To reach that 2025 target, Alberini and his team have laid out a multipronged approach that calls for a slightly bigger but curated global store footprint, deploying technology to improve inventory management and ecommerce conversion, a renewed focus on specific consumer groups, and customized product offerings.
"The customer journey continues to evolve from an already complex process with multiple touchpoints to a much more complex journey with many opportunities to engage with the customer, but also with many risks of losing them along the way prior to conversion," Alberini said during an investor conference held this month in New York.
"So, developing a good plan regarding this and executing it effectively can make or break the customer level of engagement," he added. "This is, in my opinion, absolutely critical and a critical factor to win today."
Guess is testing a new store concept at its Rodeo Drive flagship in Beverly Hills, where customers will be able to rest in the lounge area and order an espresso or tea.
In addition, Guess said it is committed to reducing the waste and pollution associated with denim production. The company is working with students from the Fashion Institute of Design & Merchandising downtown to develop sustainable designs for spring 2021.
Global focus
Alberini, who held management roles at Lucky Brand and Restoration Hardware Inc. during his time away from Guess, said 71% of the company's revenue last year was generated outside the United States.
Guess employs some 14,000 associates in more than 100 countries and in 1,743 stores. The count includes 569 franchise locations.
By 2025, the company plans to reduce the number of directly operated stores in the Americas from 439 to 405 while its presence in Europe and the Middle East would grow from 516 to 600 stores.
At one point, Guess ran some 600 stores in the Americas, said Vice President of Finance Fabrice Benarouche, who added that over the last few years, the company "took advantage of the flexibility of the store fleet" to "renegotiate our rents as well as close underperforming stores, and this is exactly what we intend to do going forward."
About two-thirds of Guess-operated stores in the Americas and Europe will be up for lease renewal in the next three years. Lower rents will contribute to the company's 10% operating margin goal for 2025, up from 4.7% today.
Ecommerce boost
In fiscal 2020, 58% of Guess revenue was generated in stores, another 30% came from wholesale channels, licensing brought in 3% and ecommerce accounted for 13%. By 2025, Guess expects ecommerce to be 18% of revenue.
Guess' growth strategy is focused on boosting conversion rates and using Salesforce.com Inc. and artificial intelligence to gather first-party data, creating personalized and relevant marketing messages, and improving customers' online experience. Brands that migrate to Salesforce generally see a 12% improvement in conversion, said Benarouche who sees opportunity because Guess currently "is well below the average."
Target audiences
Both stores and ecommerce platforms will cater to three groups of customers: heritage, which includes 40-and-older brand loyalists; millennial, comprised of 25- to 39-year-olds who are after the "thrill of the deal"; and Gen Z, the 10- to 23-year-olds who are "less deal-driven and love social good."
Guess recently launched several marketing initiatives aimed at growing the millennial and Gen Z groups, including collaborations with influencers, artists and popular retailers on limited-release product capsules.
"We will continue to reinforce and drive new customer acquisition by creating relevant experiences globally," said Nicolai Marciano. "These initiatives have translated into 20% of our customer base being part of the Gen Z audience, which we did not have prior to these initiatives." The son of company co-founder Paul Marciano, Nicolai is in charge of brand partnerships and specialty marketing at Guess.
Operational efficiencies
Guess is focusing on supply chain and logistics optimization as well as inventory management systems design and implementation to get to the 10% operating margin goal.
Specifically, the retailer plans to mitigate China tariffs by reducing production volumes there to 23% from 47% by fiscal 2021.
Guess is consolidating its vendor pool in North America and Europe from 529 vendors in December 2018 to 200 by March 2020. It also plans to eliminate commissions to agents and work directly with vendors.
When it comes to logistics in North America, the retailer wants to combine two distribution centers in Canada into one large automated center and bypass the facility when delivering full-case shipments. And Guess plans to evaluate its logistics hubs in Europe.
Improvements to inventory management are also in the works. Guess will leverage AI and machine learning to control inventories, maximize sales and optimize margins.
"We are looking at multiple solutions available in the market today," Alberini said. "If we use technology more effectively … (it) can help us to put inventory in the right place at the right time."
For reprint and licensing requests for this article, CLICK HERE.