A STEADY RISE
Special Report: Big Employers
Friday, August 23, 2019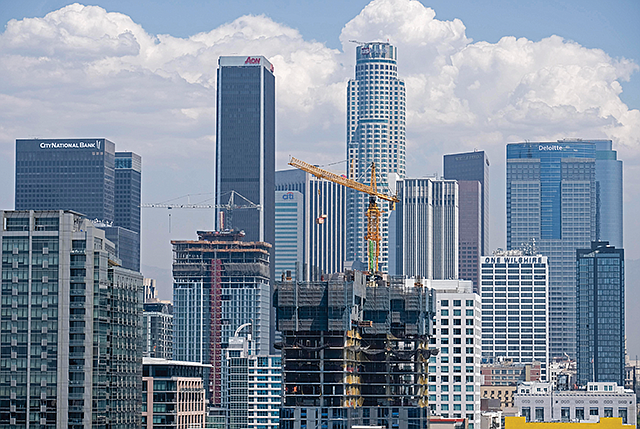 Los Angeles County's largest employers grew their payrolls modestly over the past year with health care companies helping to lead the way.
The Business Journal's annual survey of the county's 75 largest employers — 50 in the private sector and 25 in the public sector — found cumulative job growth rates of around 1% over the past year, slightly less than the countywide job growth rates reported in state data.
The county's 50 largest private sector employers added roughly 5,100 jobs to their payrolls over the past 12 months to reach nearly 396,000 at a growth rate of 1.3%. That's slightly less than state Employment Development Department figures that showed 1.5% growth among private sector employers in the county between July 2018 and July 2019.
The 25 largest public sector employers added 2,900 jobs over the past 12 months to reach nearly 417,000 for a growth rate of 0.7%. That's less than the 0.9% growth rate recorded by the EDD for the government sector.
It's not surprising that these large employers have slower paces for hiring than the overall L.A. County marketplace, according to Christopher Thornberg, founding partner and economist with Westchester-based Beacon Economics.
"When you look at giant companies like this, you're looking at a certain type of employer," namely one that is more cautious in hiring, Thornberg said.
"What you're not seeing are the smaller dynamic companies in hot sectors of our economy right now," he added, "most notably construction and technology."
Another hot sector of the local economy was notable in the survey of large employers: health care. (See accompanying story, page 10.) Five of the top 15 job gainers and three of the top 10 were health care providers, both in numeric and percentage terms.
Fast growers
The local health care hiring spree was led by the Southern California division of Oakland-based Kaiser Permanente, the largest private sector employer on the list with more than 40,000 workers. Kaiser added more than 2,800 jobs to its payrolls for a growth rate of 7.6%, making it the fifth-highest percentage job gainer among employers on the list.
Coming in ahead of Kaiser were JPMorgan Chase & Co., which grew its workforce by 400, or 10%, and Conshohocken, Pa.-based Allied Universal, which added nearly 1,100 to its Los Angeles County payroll for a growth rate of 8.5%. (See page 11 for more on Allied Universal's local growth.) Rounding out the top five gainers were Falls Church, Va.-based aerospace giant Northrop Grumman Corp., which grew its workforce at most of its L.A. County operations by a total of 1,400 for an 8.4% growth rate, and Torrance-based American Honda Motor Co. Inc., which added 184 employees for a growth rate of 8.2%.
Prev Next
For reprint and licensing requests for this article, CLICK HERE.