Best Places to Work 2019: Creating Value for the Multigenerational Workforce
Custom Content by the Los Angeles Business Journal
Wednesday, August 21, 2019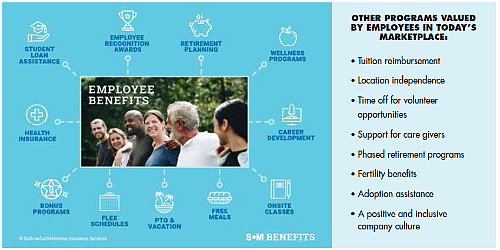 With historic low unemployment, there is a battle for talent and benefits are at the forefront. As new benefits and perks are coming to the marketplace on a seemingly never-ending basis, organizations are increasingly confused about what benefits to offer – especially in our current multigenerational workforce environment.
Benefits are important to employees' overall job satisfaction across all generations. As such, having the right benefit programs in place has never been more critical to organizational success.
What are the top benefit programs in today's marketplace, and what do the different generations value? More important, what actions can employers take to ensure success?
COMPETITIVE COMPENSATION
Compensation continues to hold the number one spot for both attracting and retaining employees (according to a 2018 WillisTowersWatson survey). A compensation package at, or above, market rate is a top driver for employees. Having a process for performance reviews where leadership provides clear and transparent information, along with a process to recognize and reward employees, are key factors for employee retention.
EMPLOYEE HEALTH AND BENEFIT PLANS
While compensation is important, it is not the only contributor to employee satisfaction. Different generations have varying needs, but comprehensive benefit plans are important for everyone in the workforce.
Organizations providing employees with a choice of health plan options – combined with robust employee communications and personalized decision guidance – are well-positioned to successfully support them regardless of their stage in life.
RETIREMENT PLANS
With pension plans a thing of the past in the private sector, employees are looking to their organizations to offer strong retirement programs such as 401(k) or 403(b) plans, preferably with employer matching contributions. According to 78 percent of survey respondents, financial retirement security has become a more important concern for them over the last two or three years (according to a 2017 Global Benefits Attitudes Survey).
WELLNESS PROGRAMS
The basic gym reimbursement wellness program has been replaced by programs focused on the whole employee. A holistic wellness program focuses on physical, mental, financial and social support. Understanding the unique needs, interests and motivations of your workforce is key to effectively designing an engaging and valuable wellness program.
MENTAL HEALTH
Mental health is covered under group medical plans, but organizations are going beyond this and implementing targeted programs to further support employees in this area. Examples of such programs include onsite counseling services, meditation rooms, mindfulness programs, sleep pods, game rooms, quiet zones, time dedicated to passion projects, volunteer opportunities and more.
WHAT DOES EACH GENERATION VALUE MOST?
At no other time in history have we had five generations in the workforce, and this brings new challenges and considerations for employers when designing benefit programs. There are several popular classifications of generations, with delineations being somewhat arbitrary. For the purposes of this article, the following definitions are used:
• Traditionalists, born before 1946
(73-plus years old)
• Boomers, born 1946-1964
(54-72 years old)
• Generation X, born 1965-1980
(38-53 years old)
• Millennials, born 1981-1995
(23-37 years old)
• Generation Z, born 1996-2010
(Under 23 years old)
While every individual is unique, each generation has trended towards valuing distinctive – and sometimes contradictory – benefits and work perks. Effectively managing these divergent desires can mean the difference between winning or losing top talent. The right benefits and perks also help employers foster increased productivity, loyalty and a reduction in employee stress levels.
BOOMERS
Affordable and robust medical plans are important to Boomers, as 66 percent have one or more chronic conditions that need to be managed. Wellness programs supporting active living are helpful because neuromusculoskeletal conditions, such as arthritis, osteoporosis and back pain, are pervasive.
Worries about having sufficient money for retirement make Boomers look to their employers for help in growing their retirement accounts.
Flexible schedules, job re-training and tuition reimbursement are valuable perks for many Boomers who are caring for aging parents and working past their planned retirement. AARP states that Boomers need to keep skills current with new technologies and rapidly changing job requirements in some industries.
GENERATION X
GenX employees rely heavily on their benefit programs. Like Boomers, GenXers value affordable and robust medical plans, as 45 percent have one or more chronic conditions (according to a 2017 Bentley University survey on Multigenerational Impacts on the Workplace). Many have young children and may also care for aging parents, making child care and elder care programs and resources important.
With work-life balance a top priority, access to services such as telemedicine, virtual visits, wellness programs and onsite clinics allow GenXers to manage work commitments, personal and family obligations, as well as their own health.
Employer matching retirement programs, financial guidance and job advancement opportunities are valued by these mid-career employees.
MILLENNIALS
Millennials garner a lot of attention from employers, and for good reason: they are the largest segment of the U.S. workforce (according to Pew Research Center).
Millennials are the "on-demand generation" and want to have a choice of insurance options. Millennials may forgo a rich medical plan for other coverages they desire. As a group, Millennials are burdened by more student loan debt than prior generations. According to an EdAssist survey, 33 percent expect their employer to help repay existing student loans, and 50 percent expect financial support for further education. Some organizations are therefore offering student loan refinance and repayment assistance programs (according to an Ed Assist survey).
Many millennials are starting families, so family planning and day care support are key incentives. Lifestyle benefits such as flexible work schedules, location independence, life coaches, and wellness programs are also valued.

HOW CAN EMPLOYERS PUT THIS INFORMATION INTO ACTION?
Regardless of an organization's unique goals, demographics and culture, the following are recommendations all employers should consider implementing:

• Evaluate benefit offerings to determine if enough flexibility and personalization is offered to meet employees' wants and needs. According to the MetLife's 2019 Benefit Trends Survey, 93 percent of employees say the ability to customize their benefits is a must-have or nice-to-have option.
• Pair flexible options in your benefits package with decision support to enhance member experience and connect people to benefits they need and value.
• Understand the segments of your population and their personal health care needs to assess opportunities for improvement and targeted programs.
• Provide employees with resources to better manage their health care. Utilize a robust, multifaceted communications approach to support employees in maximizing the benefits program.
• Gather employee feedback, evaluate and act on the feedback collected.
By understanding employees' expectations and motivations, and the demographics of your workforce along with your company culture, employers can develop effective benefit programs to grow a team of happy and engaged people across all generations.
SCM is a proud sponsor of the LABJ Best Places to Work event. Kim Bubnis is Senior Vice President, Benefits Division at SCM.
Learn how SCM can help you put together a strong benefits program for your organization. For more information, call (949) 250-7172 or e-mail information@sullicurt.com.
For reprint and licensing requests for this article, CLICK HERE.