Best Places to Work 2019: Creating Value for the Multigenerational Workforce
Custom Content by the Los Angeles Business Journal
Wednesday, August 21, 2019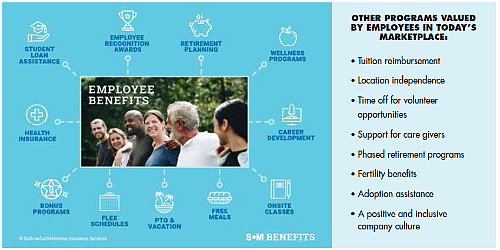 With historic low unemployment, there is a battle for talent and benefits are at the forefront. As new benefits and perks are coming to the marketplace on a seemingly never-ending basis, organizations are increasingly confused about what benefits to offer – especially in our current multigenerational workforce environment.
Benefits are important to employees' overall job satisfaction across all generations. As such, having the right benefit programs in place has never been more critical to organizational success.
What are the top benefit programs in today's marketplace, and what do the different generations value? More important, what actions can employers take to ensure success?
COMPETITIVE COMPENSATION
Compensation continues to hold the number one spot for both attracting and retaining employees (according to a 2018 WillisTowersWatson survey). A compensation package at, or above, market rate is a top driver for employees. Having a process for performance reviews where leadership provides clear and transparent information, along with a process to recognize and reward employees, are key factors for employee retention.
EMPLOYEE HEALTH AND BENEFIT PLANS
While compensation is important, it is not the only contributor to employee satisfaction. Different generations have varying needs, but comprehensive benefit plans are important for everyone in the workforce.
Organizations providing employees with a choice of health plan options – combined with robust employee communications and personalized decision guidance – are well-positioned to successfully support them regardless of their stage in life.
RETIREMENT PLANS
With pension plans a thing of the past in the private sector, employees are looking to their organizations to offer strong retirement programs such as 401(k) or 403(b) plans, preferably with employer matching contributions. According to 78 percent of survey respondents, financial retirement security has become a more important concern for them over the last two or three years (according to a 2017 Global Benefits Attitudes Survey).
WELLNESS PROGRAMS
The basic gym reimbursement wellness program has been replaced by programs focused on the whole employee. A holistic wellness program focuses on physical, mental, financial and social support. Understanding the unique needs, interests and motivations of your workforce is key to effectively designing an engaging and valuable wellness program.
MENTAL HEALTH
Mental health is covered under group medical plans, but organizations are going beyond this and implementing targeted programs to further support employees in this area. Examples of such programs include onsite counseling services, meditation rooms, mindfulness programs, sleep pods, game rooms, quiet zones, time dedicated to passion projects, volunteer opportunities and more.
Prev Next
For reprint and licensing requests for this article, CLICK HERE.