Top Litigators & Trial Lawyers: JAMES J. YUKEVICH
Custom Content by the Los Angeles Business Journal
Tuesday, August 20, 2019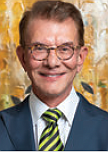 James J. Yukevich
Partner
Yukevich | Cavanaugh
James J. Yukevich is the founding partner of Yukevich | Cavanaugh, a Firm that consistently delivers on its mission; to give each client a special level of service and outstanding results in Civil Litigation defense. Yukevich specializes in Civil Litigation, Product Liability Litigation, Toxic Tort Litigation, Commercial Litigation. With over 30 years of courtroom experience, Yukevich has earned a win rate over 90% in contested liability cases. Yukevich is trusted by Fortune 500 companies to present customized legal strategies that are unique to each situation and matter, and employ tactics that result in fair resolutions.
Recently, Yukevich secured a unanimous defense verdict in favor of his client, Ferrari North America, Inc.; the verdict took jurors less than 25 minutes to deliberate. During the trial, Yukevich proved that the vehicle's seatbelt was not defective in any respect and that it performed exactly as its ordinary consumers would expect.
For reprint and licensing requests for this article, CLICK HERE.