Sports Center
How Schloessman and LASEC help bring the big games to LA
Friday, August 9, 2019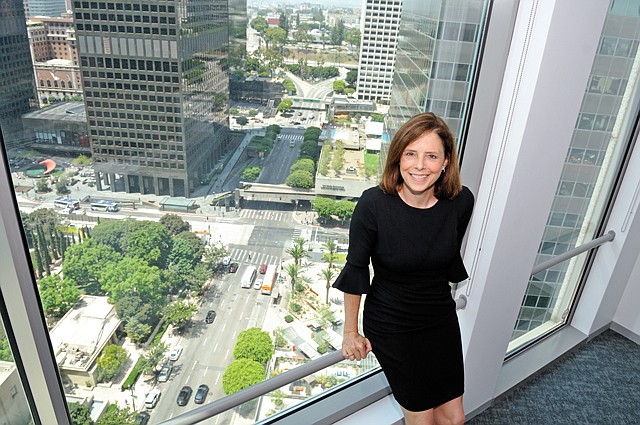 When it comes to landing major sports events for Los Angeles, the 18th floor of downtown's U.S. Bank building could be considered the control tower.
That's where Kathryn Schloessman, president and chief executive of the Los Angeles Sports & Entertainment Commission since 1997, orchestrates the city's process of bidding for, securing and planning some of the world's biggest events.
The nonprofit LASEC, which was launched in 1995 by then-Mayor Richard Riordan and works closely with the Los Angeles Tourism and Convention Board, has played a key role in shaping what Schloessman calls L.A.'s "decade of opportunity."
Among the upcoming events Schloessman has helped bring to Los Angeles are Major League Baseball's 2020 All-Star Game at Dodger Stadium, the National Football League's Super Bowl in 2022 and the College Football Playoff National
Championship Game in 2023 — both at the new Los Angeles Stadium at Hollywood Park — and golf's U.S. Open championship in 2023 at the Los Angeles Country Club.
The city is also a key part of the U.S. bid to host the 2026 World Cup soccer tournament and Schloessman wants the city to hold a future NCAA Final Four championship. And, of course, in 2028 Los Angeles will play host for a third time to the Summer Olympic Games.
The Business Journal sat down with Schloessman for a closer look at the LASEC's strategy and how the organization's efforts drive returns for teams and the local economy.
How do you explain LASEC's role on the city's sports landscape?
We are the official bidding organization for this city for major sporting and entertainment events, but we are also part of the team that brings everyone together and makes sure it all works well once we are awarded the event. It's not just about making a bid, turning it over and leaving.
How does the organization ensure events are successful once you've secured the bid?
We have a lot of great resources in this city, but if you don't know your way around — not just L.A., but Inglewood, Pasadena and other cities — you will get frustrated. These events need a single point of contact. We make sure they are connected and in communication with the right people. We don't actually run the event, but we stay involved throughout the process and make sure the event organizers get whatever help they need — whether it's closing down streets, being introduced to sponsors and promotional partners, contracting hotels and venues, or recruiting volunteers.
Prev Next
For reprint and licensing requests for this article, CLICK HERE.