Multiple HAIL MARYS
Special Report: Business of Sports
Friday, August 9, 2019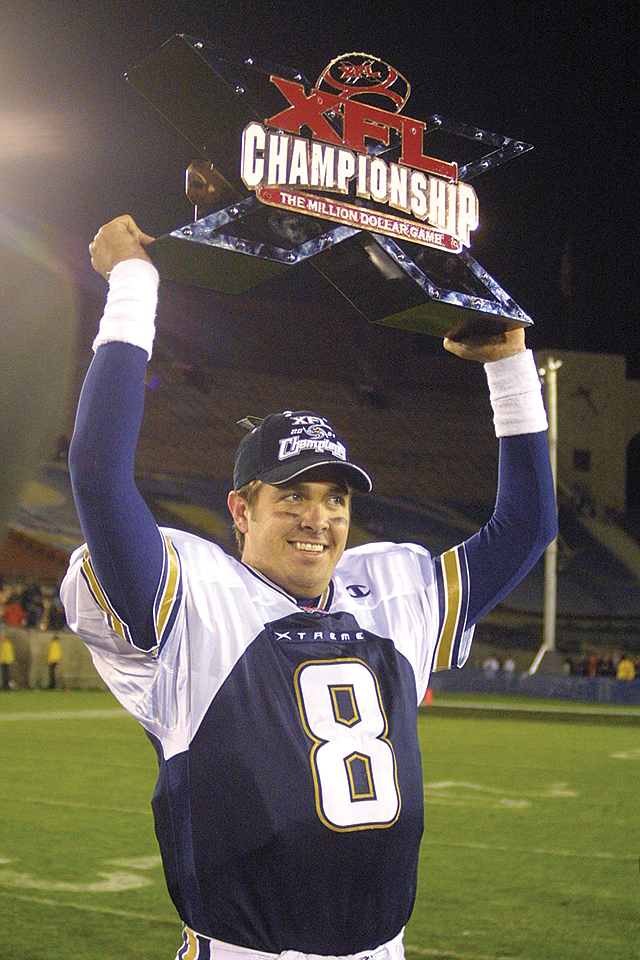 Los Angeles has never had a problem attracting professional football teams. Keeping them is another matter.
The city's National Football League legacy includes the Rams who became the first professional sports team in Los Angeles when they moved to the city in 1946 and called the market home until 1994. The team moved back to L.A. in 2015.
The Raiders enjoyed a 13-year run in Los Angeles before returning to Oakland in 1995.
But there's a colorful history of non-NFL teams who tried to carve a niche in the city's crowded sports and entertainment market.
The highlights:
Los Angeles Chargers,
American Football League (1960)
The Chargers charged through the first season of the AFL, going 10-4, while playing at the Los Angeles Memorial Coliseum.
But the team bolted to San Diego before its second season, thanks to owner and hotel heir Barron Hilton. The Chargers became an NFL team when the AFL merged into the established league 10 years later.
Remaining fans of the '60 Chargers enjoyed karmic retribution in 2017 when they moved back to L.A. under owner Dean Spanos.
Los Angeles Express,
United States Football League (1983-1985)
"Los Angeles wanted this team as much as it wanted more smog," the Los Angeles Times wrote in a 1985 postmortem on the Express.
The squad, which played in the Coliseum, was partly felled by a federal savings and loan investigation into its owner, Bill Oldenburg.
League executives including Bill Daniels, who co-founded Fox Sports Prime Ticket, a pioneering regional sports network, took over the team from Oldenburg in 1984. One year later the USFL suspended play amid antitrust litigation filed against the NFL, a lawsuit that ultimately bankrupted the upstart league.
Los Angeles Avengers,
Arena Football League (2000-2009)
L.A. has had a few entrants in the Arena Football League, an indoor football game with a shorter field and rules that encourage higher scoring.
Sports agent Casey Wasserman owned the Avengers, an early Staples Center tenant. Wasserman shut down the operation in 2009 when the Arena Football League canceled its season amid a labor dispute.
Los Angeles Xtreme,
XFL (2001)
The Xtreme were champions of the original XFL's lone season. The league-owned team played in the Coliseum. During televised games, league executives instructed broadcaster NBC to point the camera in ways that hid the Xtreme's extremely low attendance.
For reprint and licensing requests for this article, CLICK HERE.