Nonprofit Plans Solar Push
MANUFACTURING: New tech powers low-cost panels
Friday, August 2, 2019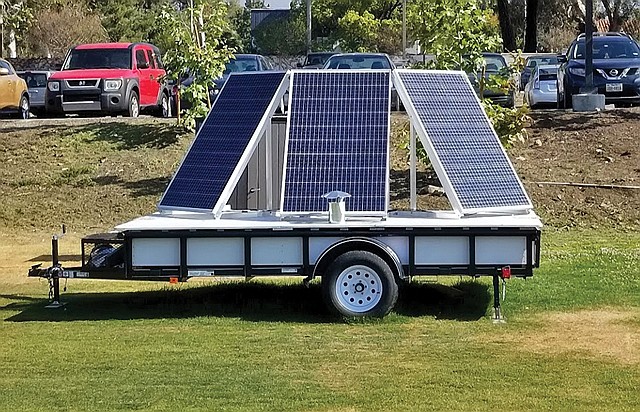 A Claremont nonprofit is getting into the solar energy business.
Claremont-Pomona Locally Grown Power plans to open a factory in Pomona to produce tens of thousands of solar panels using a new proprietary technology, then install the panels on rooftops of up to 6,000 local low-income households — all without making money.
How Claremont-Pomona LGP will build a better — and cheaper — solar panel.
This is one of the first attempts in the nation to combine solar panel production with not-for-profit installations targeting disadvantaged communities. Typically, nonprofit solar panel installers buy panels from for-profit manufacturers, often at steep discounts.
Claremont-Pomona LGP faces significant hurdles as it attempts to implement its ambitious goals. While its new solar technology has been extensively tested in the lab at neighboring Harvey Mudd College in Claremont, it has yet to be subjected to real-world manufacturing conditions.
Claremont-Pomona LGP is a unit of Cherp Inc. — an acronym for Community Home Energy Retrofit Project — that launched as a 501(c)(3) nonprofit in March 2015.
Executive Director Devon Hartman said it will cost roughly $25 million to churn out the tens of thousands of panels to cover its initial target of 6,000 rooftops. So far, Claremont-Pomona LGP has only raised about 10% of that.
The project was included in the state budget signed earlier this month — a one-time $2.1 million allocation slated to help LGP launch a production facility by the middle of next year. LGP is negotiating to lease part of a building owned by the Pomona Unified School District that once housed a welding training facility. LGP plans to convert it into a solar panel production factory employing roughly 200 people.
As LGP pushes to open its factory, Hartman faces another major challenge: raising $20 million plus in funding needed to keep the factory going. He said the $2.1 million in state funding will only cover startup costs, including construction, machinery purchases, initial lease payments and a fraction of production and new hires.
Will nonprofit work?
Claremont-Pomona LGP will need to go after an array of grants and individual donations and tap into programs run by local and state agencies that target renewable energy for low-income households. And LGP will be competing against other nonprofit solar installers for those funds.
The largest local nonprofit solar panel installer is the Los Angeles chapter of Oakland-based Grid Alternatives, which has offices throughout California, Colorado and the Mid-Atlantic region. Downtown-based Homeboy Industries also has a nonprofit solar installation program, with the main focus on workforce training.
Prev Next
For reprint and licensing requests for this article, CLICK HERE.