Home Grower
Cross Campus has the ambition, and it's seeking the funding to expand through acquisitions in LA and beyond
Friday, August 2, 2019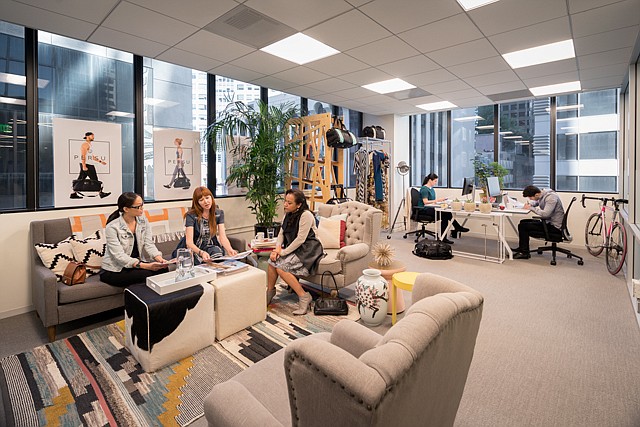 Cross Campus Inc. commands 3% of the flexible office space leasing market in greater Los Angeles, but that will change if Chief Executive Ronen Olshansky's plans materialize.
The Santa Monica-based coworking company, which has 220,000 square feet of space under management, is "actively in discussions with similar businesses to acquire them," Olshansky said. "This next phase of growth will take us from a leading brand in L.A. to a dominant Western region brand."
Cross Campus is raising capital to finance its planned acquisitions. According to reports, the company is expected to bring in $30 million to $50 million in a Series B funding round. To date, it has raised at least $7.1 million, according to PitchBook Data Inc., with Brentwood-based private real estate company Lowe among its backers.
The expansion plans come on the heels of a recent acquisition that extended Cross Campus' reach to San Diego and Scottsdale, Ariz. The company purchased San Diego-based DeskHub, a bolt-on acquisition that added 300 members to Cross Campus' roster of 2,500, with clients ranging from startups to Fortune 50 companies. Terms of the deal were not disclosed.
Cross Campus' competition, however, is not sitting idle. New York-based WeWork Cos. Inc., which has 30 locations in greater Los Angeles and holds 32% of the flexible space market here, announced plans to go public in September and raise "several billion dollars," which would give the company a valuation of around $36 billion, according to the Wall Street Journal.
Cross Campus, which has 50 employees, also competes with IWG, a group that commands 24% of the local market and includes Regus with 67 locations and Spaces with 11. Smaller players on the local scene are Premiere with 8% and Barrister at 6%, according to CBRE Group Inc. Cross Campus is on par with Industrious, which has 234,000 square feet of coworking space across six locations in Los Angeles.
Campus crowd
Olshansky co-founded Cross Campus in 2012 after several stints on Wall Street and business ventures in Brazil and Moscow. He was inspired by a "similar concept," he said, which solved a problem he'd faced as a budding entrepreneur in Santa Monica. He had all the tools to be successful, he said, including the seed money, a website, a brand and the technology platform ― everything but colleagues to collaborate with.
"I sat there by myself, and I just felt like the walls are caving in on me," Olshansky said. "Humans are generally social creatures, and so we really thrive from interacting with others, which is why the vast majority of people find they're not productive working out of the home."
He envisioned Cross Campus as a place for people from all walks of life to work alongside each other, either by signing up to use available desk space or leasing a private office and sharing amenities like conference rooms, coffee bars and work lounges. The company's seven carefully curated locations are light and airy, and have space to host events.
Amber Schiada, senior director of research for the Southwest region at Jones Lang LaSalle Inc., recently toured Cross Campus' Santa Monica location, which she described as a "pretty cool creative space." She said being able to host events helps "create more of a community and not just a place to work."
Cross Campus' Pasadena location has views of the San Gabriel Mountains while the downtown office features on-site parking, showers and a meditation room — along with craft beer and kombucha on tap. The South Bay location has outdoor gardens and a fire pit.
The company's full-building office in Beverly Hills is still under development. Cross Campus' website promises the facility will have a "penthouse and outdoor garden deck," for use as a workspace and for hosting events. The location also boasts "stunning views of the Hollywood sign." Cross Campus is leasing the space and the building's owner plans to invest more than $1 million on improvements, according to a filing with the Securities and Exchange Commission.
Olshansky said the company is still working out whether it makes sense financially to buy buildings outright before converting them to coworking spaces. "We do think that's an opportunity in the future, but for now, we've allocated our capital and focus on getting really good at designing and operating these types of flexible office facilities."
Growth spurt
In 2014, coworking's footprint in the L.A. area was 1.52 million square feet. Today, it stands at about 5.52 million square feet ― a 264% jump, according to CBRE — and accounts for 2% of overall office occupancy.
"In the next five years, if the demand continues to grow for these types of office solutions, then we have a very large opportunity in front of us," Olshansky said. "We have the ability not to just double but to do five times or 10 times on our current footprint."
Landlords like coworking companies as tenants because they sign long-term contracts and maintain and improve the property.
Olshansky compared the concept to running a hotel. "You don't need to rebuild all the hotel rooms every time someone checks out," he said. "You just need to clean them up."
Tenant companies like coworking spaces because they offer month-to-month terms that can be lower than a traditional lease since amenities are shared with other tenants.
And while it costs more for coworking operators to maintain the space, they often can reap higher profits since they're subleasing to more tenants per square foot.
"Revenue could be five times more than if they just rented the space to one tenant," said Daniel Rainer, a vice president at CBRE in Los Angeles.
JLL's Schiada said she wasn't surprised with Cross Campus' growth spurt.
"Right now in the United States coworking takes up about 79 million square feet of office space, and nine years ago coworking operations only occupied 14.7 million square feet," Schiada said. "The concept of coworking isn't new, but I think WeWork and companies like Cross Campus have been a catalyst in sort of reimagining what that space looks like."
For reprint and licensing requests for this article, CLICK HERE.