Survey: LA Consumer Sentiment Slips to Four-Year Low
Monday, April 22, 2019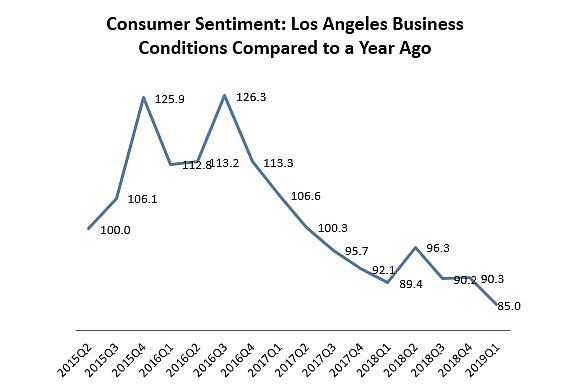 Los Angeles consumer confidence fell to a nearly four-year low during the first quarter as local consumers grew increasingly concerned about future job prospects, according to a survey released April 22.
The survey from the Lowe Institute of Political Economy at Claremont McKenna College showed a consumer sentiment index reading for business conditions in Los Angeles County of 85.0, its lowest point since tracking of local consumer sentiment started nearly four years ago. The index reading for the fourth quarter was 90.3, while the index reading for the first quarter 2018 was 89.4
The indices for consumer sentiment on the local and national economies are the first of their kind for Los Angeles. They are produced through an alliance between the Lowe Institute and Chapman University in Orange. A baseline index reading of 100 was set in the second quarter of 2015 for the index, which debuted in 2017.
The first quarter reading was from a sampling in mid-March of roughly 500 Los Angeles County residents who answered questions about their current economic situation, their outlook for their own finances and spending in coming quarters, and their outlooks on both the local and national economies.
According to Cameron Shelton, director of the Lowe Institute and associate professor of political economy at Claremont McKenna College, consumers during the first quarter downshifted their expectations of future employment.
The unemployment rate for Los Angeles County has hovered in the 4.6 percent to 4.7 percent range for the past year, showing no overall improvement. And the rate at which employers have been adding jobs to their payrolls over the past year has slowed to around 0.8 percent from around 1.5 percent for similar 12-month periods a couple years ago, according to figures from the California Employment Development Department.
"The survey respondents are seeing a slowdown in the rate of hiring by employers and are now concerned that if they are laid off from or quit their current job, there's less chance of swiftly landing a new, better job," Shelton said.
That in turn, Shelton said, is leading consumers to be slightly more cautious about their future spending. The index reading for consumers saying the next 12 months would be a good time to buy a car fell to 84.9 in the first quarter from 87.7 in the fourth quarter.
Education, energy, engineering/construction and infrastructure reporter Howard Fine can be reached at hfine@labusinessjournal.com. Follow him on Twitter @howardafine.
For reprint and licensing requests for this article, CLICK HERE.