Data Centers Come Online
Tech: Google, others ramp up to meet growing local demand
Friday, April 19, 2019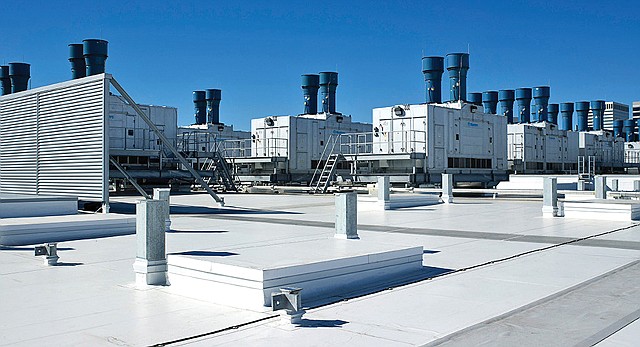 To serve businesses and consumers in an increasingly connected world, technology companies are on the hunt for space to house their data servers as close to users as possible.
In Los Angeles, that means entire floors of downtown office buildings and downtown-adjacent industrial locations are now occupied by vast banks of servers, processing and storing data in cool, dark rooms.
"We are seeing companies looking to increase their urban data center operations," said Darren Eades, a broker at real estate firm Jones Lang Lasalle Inc. who has helped clients find space for their data operations. Given the number of devices people carry and the density of population and business activity in areas like downtown, Eades said, technology companies need secure infrastructure nearby that's both reliable and fast.
For many years, data centers tended to be situated away from urban centers because space was more plentiful and the cost was low. But several recent deals in the downtown market and other densely populated parts of L.A. show that trend has shifted.

CoreSite Realty Corp., which operates 23 data centers nationwide, has established three facilities downtown with a fourth to be completed by 2020. In June, Mountain View-based Google announced new data center space downtown as well — marking the tech giant's fifth U.S. data center and its first in L.A.
Most recently, L.A. County leased space for a new data center in El Segundo, near Los Angeles International Airport and a cluster of company offices including Northrop Grumman Corp., Mattel Inc. and Boeing Co.
"Accessibility of computation as close to the customer as possible is very valuable," said Marc Gittleman, senior executive adviser at downtown-based Rising Realty Partners. Rising bought a former Verizon Communications Inc. data center at 1200 W. 7th St. three years ago, and it leases the space to various clients.

Power struggle
High power costs have made it difficult for many large operators to establish data centers in the L.A. market. Retrofitting an office building to house data centers often requires establishing and regulating a new energy substation capable of powering and cooling thousands of servers.
A 10-megawatt substation, for example, would cost "a couple million dollars and take two to three years to construct," Eades said. "If the power isn't there … it's difficult to have a data center." Data centers measure their services in the amount of power — in megawatts — available for rent by a technology firm.
In L.A., power rates can be more than twice the national average per kilowatt hour. That cost had kept major operators away from the densest areas of the L.A. market, but that's changing, Eades said.
Google was one of the first major U.S. technology companies to establish a data center in the nation's second largest metro area, despite the costs. Last year, the company opened a data center in an undisclosed location in downtown to support its Google Cloud service outside of Silicon Valley.
"It's clear Los Angeles is a market we want to invest in," Google Cloud Enterprise Director Matthew Brooks said in June. "It is expensive to operate a data center in Los Angeles, but I think it's representative of our commitment to the technology and the growth of Silicon Beach and the startup community."
This year, Google is set to install an underwater cable connecting Los Angeles to Chile to help power Google Cloud usage in Latin America. Google operates 11 underwater cables that transmit data internationally — requiring massive amounts of data storage space in the markets connected by those cables.
It's also drawing additional operators to the market, according to Eades. "Since Google entered L.A., other providers have looked to increase their footprint," he said. "We're hoping to get some bigger providers (and) once two or three come in, they will drive velocity in the market."
Going forward
Los Angeles has become one of the most important markets for establishing data-processing capabilities, industry experts say.
"There's a large media and entertainment industry here, and a lot of companies trying to interconnect with each other to produce edits and deliver content and get it out to the 30 million users in L.A.," said Maile Kaiser, senior vice president of sales for Denver-based CoreSite.
CoreSite has focused on downtown to be close to media consumers and customers. Since 2006, the company has managed at the One Wilshire office building a 13-floor data center capable of hosting nearly 350 networks for clients. CoreSite encourages a practice called colocation, which allows companies to lease server racks from other data center tenants.
The company added two more data center locations downtown, one on North Alameda Street and the other acquired last year when CoreSite bought U.S. Colo, based near Pershing Square. CoreSite is now constructing its fourth downtown data center in the parking lot of its operation on Alameda. The center will go online in 2020 and occupy 185,000 square feet over four stories, providing 18 megawatts of power.
"We've been in the market for seven years, and we're seeing a pipeline of potential customers shopping for space in L.A. emerge," said Alex Wangenheim, chief operating officer of T5 Data Centers, which operates and leases a 117,000-square-foot data center in El Segundo.
One of T5's new clients is Los Angeles County, which consolidated several scattered data centers into the El Segundo location in January. "T5 was unique in two ways: they had their own substation here, and they cool using air instead of water, so there was great power savings we could generate by coming to this center," Dave Wesolik, county director of information technology services, said in a video on T5's website.
"LA metro is the second largest (metro service area) in the country," Wangenheim said. "That's driving a lot of attention from the bigger cloud players."
For reprint and licensing requests for this article, CLICK HERE.