Cedars Makes Valley Moves
HEALTH CARE: Tarzana deal part of growth goals
Friday, April 5, 2019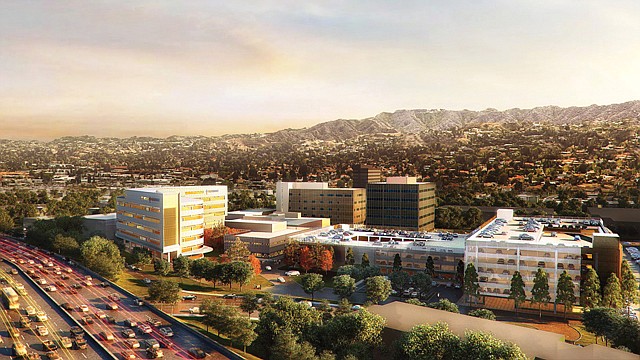 Cedars-Sinai Medical Center made a bold move last month when it announced a joint venture to own and operate what would be its first hospital in the San Fernando Valley, another sign the Beverly Grove-based nonprofit is looking to expand beyond its traditional footprint in the L.A. Basin.
The pending deal with Providence St. Joseph Health for a stake in Providence Tarzana Medical Center would give Cedars, the largest hospital in the West, a Valley beachhead to provide a broad range of specialized health care services.
The joint venture agreement announced March 12 has not been signed, pending a review by the state attorney general, according to statements from both hospitals.
If the agreement should become final, the hospital will be renamed Providence Cedars-Sinai Tarzana Medical Center.

Both the Beverly Grove-based Cedars-Sinai and the Irvine-based Providence St. Joseph Health Southern California declined to make executives available to discuss the deal.
"The California Attorney General's office has been notified of the transaction as required by law, and the two organizations intend to sign definitive agreements once that office has completed its review," Cedars-Sinai said in an emailed statement.
While the Valley expansion could give Cedars both a financial and branding boost, it also means sharing the cost of a $542 million seismic retrofit and expansion that the Tarzana Medical Center needs.
Cedars would also be taking a stake in a hospital that has consistently lost money in recent years, according to state data. The hospital reported a net loss in each of the years between 2014 and 2017. A 2018 update is expected in June. The most recent data from 2017 shows Tarzana Medical Center lost nearly $11 million on $263 million in revenue.
But the Tarzana hospital stake could provide Cedars-Sinai with a steady stream of Valley patients that could feed into its growing specialty business, health economists said.
"Cedars has satellite offerings in the San Fernando Valley region but no hospital," said Mireille Jacobson, a health economist at USC's Leonard D. Schaeffer Center for Health Policy and Economics. "Hospitals are good for getting referrals to their specialized outpatient facilities, and to get new patients.
"They wouldn't be in this deal if they didn't think there was a profit opportunity," Jacobson added.
Expansion push
Cedars-Sinai has in recent years cast a patient net far beyond its Beverly Hills-adjacent campus, helping it to pull in $3.2 billion in revenue last year, according to records filed with the state.
The nonprofit research hospital purchased the 145-bed Marina del Rey Hospital in 2015 for a reported $25.3 million, before opening primary care and urgent care centers in Culver City and Playa Vista.

The Marina del Rey acquisition was billed as a way to allow for future collaborations in primary and specialty care, expanded access to clinical trials and sharing of medical resources.
In 2017, Cedars-Sinai also announced a partnership with Torrance Memorial Medical Center.
In January, Cedars-Sinai opened its a primary health care clinic in Santa Monica, which includes an expanded medical practice that the nonprofit said would feature cancer treatment and other specialties.
The opening marked the 41st Cedars-Sinai primary care location between Tarzana and Inglewood, according to the hospital website, which represents a new model for how hospitals operate, according to Jennifer Bayer, vice president of external affairs for the Hospital Association of Southern California, a Los Angeles-based trade group.
"It used to be that hospitals worked in very defined areas," she said. "It's shifting. You can affiliate with different medical groups and specialty groups that can help you expand your portfolio."
Growth goals
Providence Tarzana Medical Center, a 249-bed hospital opened by a physician's group in 1973, was long in the tooth when it was purchased 11 years ago by Providence Health & Services for $89 million.
It was also badly in need of renovation and a seismic safety retrofit required by the state.
A new 244-bed hospital, now under construction, will feature a six-story patient tower with private rooms, expanded pediatric and emergency care, new surgical facilities, parking and "healing gardens" on its 13-acre campus along the 101 Freeway.
The $542 million project, designed by Perkins and Will Inc., is expected to be completed by 2022.
For Cedars-Sinai, entering into a joint venture with Providence was a "strategic investment," according to a Cedars-Sinai statement.
For Providence St. Joseph Health, a not-for-profit Catholic health system based in Washington with six hospitals in Los Angeles County, that partnership may have been a strategic necessity with the Tarzana hospital losing money and requiring half a billion dollars in renovation costs.
"Providence Tarzana Medical Center sought a partner when it undertook the more than half-billion dollar renovation and expansion, and knew Cedars-Sinai would be the perfect choice," said Dale Surowitz, Tarzana Medical Center's chief executive, in a statement.
The proposed Cedars-Sinai pact with Providence would give Providence a controlling interest, according to a joint announcement, with the Tarzana hospital retaining its Catholic identity. That means the hospital would continue its prohibition against offering patients birth control and abortions.
A joint hospital would also include doctors from Cedars-Sinai, Providence and Children's Hospital Los Angeles Inc., which now operates the pediatric units at Tarzana hospital.
For reprint and licensing requests for this article, CLICK HERE.