Border Back-Up Causes Headaches for L.A. Importers, Manufacturers
Thursday, April 4, 2019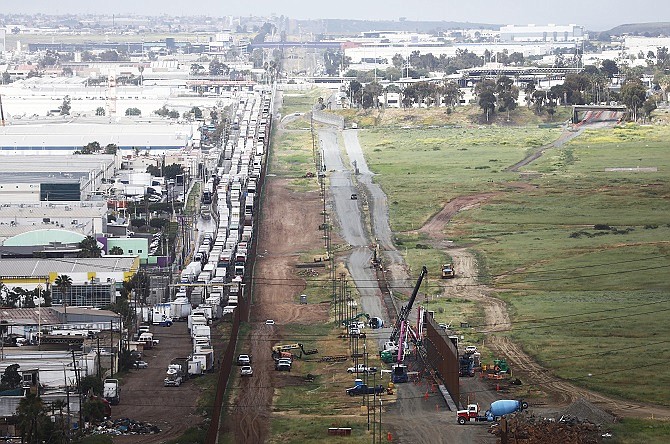 Bottlenecks at the U.S.-Mexico border are already doubling wait times in San Diego — and that could get worse.
U.S. President Donald Trump backed down on his threat to close the border, but the administration's move to redeploy 750 border agents to immigration duties from commercial services has caused havoc for some Los Angeles businesses.
At Customs and Border Protection's San Diego field office, which runs the largest port of entry for cargo traveling by land between the two countries at Otay Mesa, staff levels were cut 6 percent. Lines of idling big-rig trucks clogged the streets of Tijuana, creating headaches for the region's manufacturers that rely on binational production.
"There are no good alternatives," said Ernesto Bravo, head of Tijuana operation for El Paso, Texas-based Tecma Group, which provides supplies to many U.S. manufacturers including six in the Los Angeles area. The two countries did $611 billion in trade last year, much of which crosses the border in trucks.
Bravo, whose company runs 30 facilities in Tijuana, said the Mexican border city is a hub for biomedical device, automotive parts and electronics manufacturing. "The supply chain between the U.S. and Mexico manufacturing are completely integrated," he said.
Customs and Border Patrol officials said in an April 4 conference call with freight brokers, importers and other binational trade players that companies must brace for extended wait times at ports of entry on the Mexico-U.S. border for the foreseeable future. Officials said train and sea transport were not being impacted at the time.

On Thursday, the average wait time at Otay Mesa was four hours — double what it was a year ago. The Otay Mesa crossing closes at 8 p.m., and many drivers remain in line overnight, creating an even larger bottleneck the following day.
Manufacturing, retail and trade reporter Rachel Uranga can be reached at ruranga@labusinessjournal.com or (323) 549-5225 ext. 251. Follow her on Twitter @racheluranga
For reprint and licensing requests for this article, CLICK HERE.