AMENITIES ARMS RACE
Developers look to attract, retain tenants
Friday, September 28, 2018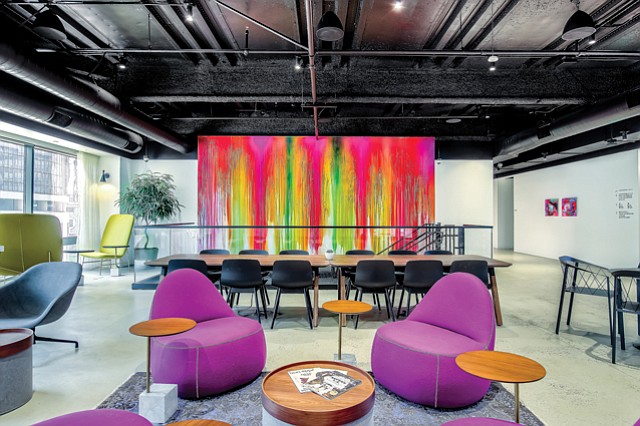 Office landlords and developers are investing tens of millions of dollars in luxury amenities to attract and retain tenants who see perks as a way to recruit and keep employees.
It's an attempt to spice up the corporate office environment in an age of low unemployment, telecommuting, shortened attention spans and younger workers who want a luxury work environment and a paycheck, according to some L.A. brokers and developers.
This isn't the first try at redefining the workplace, but the latest round of upgrades and offerings goes beyond open office environments and flexible work spaces. It's not unheard of for office concierges to plan birthday parties for tenants' children, pick up dry cleaning or arrange for therapy dogs to show up at the office.
"Back in the day – a year ago – people thought a food truck was enough," said Ryan Harding, an executive managing director at Newmark Knight Frank.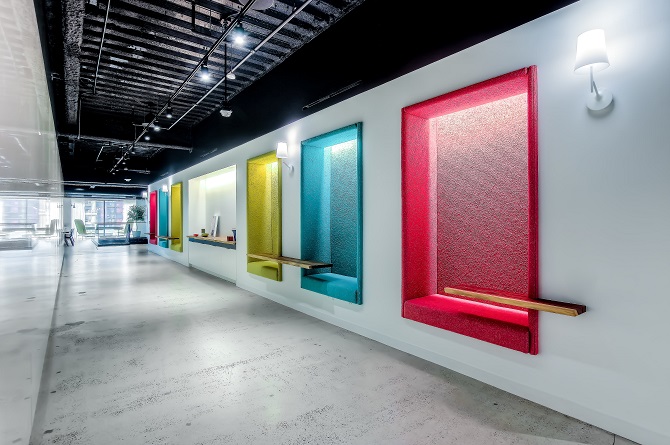 Tenants at the Brookfield Properties-owned Wells Fargo Center at 333 S. Grand Ave. on Bunker Hill – a lineup that includes law firm Latham & Watkins and financial services firm DoubleLine Capital – can see graffiti art by Risk, sample food from an on-site gourmet chef and get access to 20,000 square feet of event space, small boardrooms and large conference rooms. Brookfield partnered with New York-based amenities firm Convene last year to build out the hotel-like hospitality environment, equipped with modern art, a restaurant, a business center and relaxation areas.
And there's more coming.
Brookfield is stripping the property's old food court and spending $60 million to create Halo − 13,000 square feet of food and beverage space, a meditation area, meeting rooms, another Convene lounge and an outdoor bar.
A similar space – what Brookfield Executive Vice President Bert Dezzutti called "a club-like environment" – will soon be unveiled at the Figueroa at Wilshire building at 601 S. Figueroa St., another property the company owns.
"(Tenants) want an environment that offers their employees the chance to be productive at work, the chance to be entertained and stimulated by the environment," Dezzutti said.
Questionable demand
The push to outfit properties with high-end amenities came as employees seem to want more practical offerings, according to a recent study by CBRE Group Inc.
Parking topped the list of amenities ranked in order of importance to tenants in the CBRE study. Conference centers and wellness facilities, such as fitness centers, cafeterias and coffee bars rank near the top of the list of office tenant priorities. More exotic or unusual athletic offerings in an office setting haven't been as successful, according to one broker.
Prev Next
For reprint and licensing requests for this article, CLICK HERE.