Who's Building L.A. (September 24): Oceanwide Plaza - DOWNTOWN
Custom Content by the Los Angeles Business Journal
Monday, September 24, 2018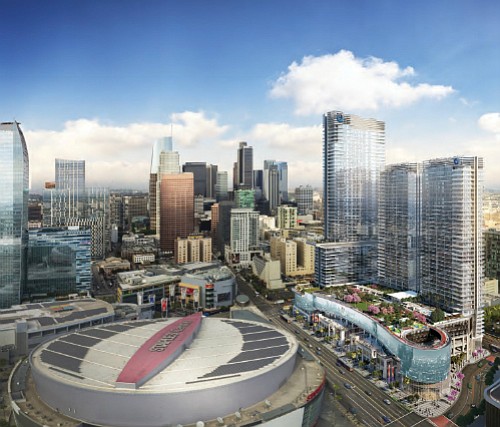 PROJECT HIGHLIGHTS ■ Three residential and hotel towers along with a seven-story lifestyle podium anchored by an approximately 166,000-square-foot open-air galleria ■ Located across the street from LA Live ■ Nearly 700 feet of ribbon-shaped LED signage along Figueroa Street will wrap the center as a character-defining hallmark of Oceanwide Plaza ■ Park Hyatt Los Angeles will feature 184 rooms, including 34 suites
Oceanwide Plaza, the first North American development by prominent international developer Oceanwide Holdings, is set to become one of the most significant mixed-use developments in the history of downtown Los Angeles. Oceanwide Plaza will encompass a variety of lifestyle offerings including a new five-star Park Hyatt hotel, a collection of curated retailers and restaurants and a refined residential offering bringing a new level of sophistication to L.A.'s sports and entertainment district.
Located directly adjacent to the Staples Center and L.A. Live, Oceanwide Plaza will comprise three residential and hotel towers along with a seven-story lifestyle podium anchored by an approximately 166,000-squarefoot open-air galleria creating a vibrant new shopping, dining and entertainment destination. Nearly 700 feet of ribbon-shaped LED signage along Figueroa Street will wrap the generous lifestyle center as the character defining hallmark of Oceanwide Plaza, greeting local guests and travelers from all over the world.
Park Hyatt Los Angeles will be the sixth U.S. location for the luxury global hotel brand. The 184-room hotel, including 34 suites, will feature a sophisticated character courtesy of acclaimed international design firm Studio Munge. The Park Hyatt brand's signature approach to service and masterful attention to detail, along with its strategically chosen location within Oceanwide Plaza will offer a personalized experience yet to be seen in Los Angeles.
Imaginatively designed by CallisonRTKL to serve as an oasis from the bustling energy of downtown, the luxury hotel will be connected to the 100-foot retail and amenity podium known as The Collection at Oceanwide Plaza. The retail space design by the global architecture firm will lend to experience-driven guest accommodations amid a dynamic environment for innovative retailers to showcase unique merchandising concepts and sought-after products.
Scheduled for completion in early 2019, Oceanwide Plaza is owned by Oceanwide Plaza LLC, which operates as a subsidiary of Beijing- based Oceanwide Holdings Co. Ltd. one of the largest non-government controlled conglomerates in China.
For reprint and licensing requests for this article, CLICK HERE.