Who's Building L.A. (September 24): Avalon - WEST HOLLYWOOD
Custom Content by the Los Angeles Business Journal
Monday, September 24, 2018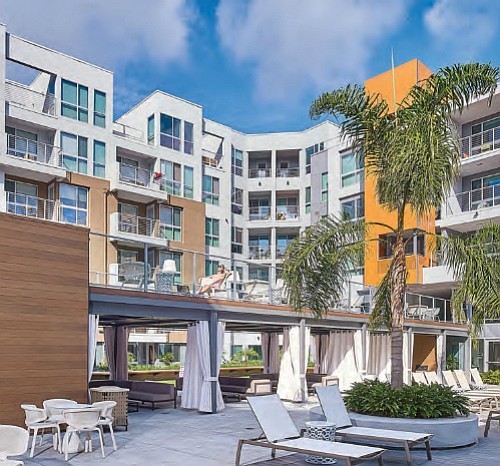 PROJECT HIGHLIGHTS ■ The development features a public central plaza and pedestrian mews, neighborhood-serving retail, and a Trader Joes market ■ Movietown Square features 77-units of affordable senior housing above the Trader Joes market ■ Located across the public plaza are the two market-rate buildings, which are connected via an iconic bridge element ■ Great Santa Monica Blvd. Location
Avalon West Hollywood offers a multi-generational urban lifestyle that embraces the energy of its surrounding movie industry neighborhood and the vibrant street-life of Santa Monica Boulevard.
The exteriors are designed in a contemporary modern style, conveying the spirit and urban character of West Hollywood. At street-level, the development enhances the existing urban fabric with a public central plaza and pedestrian mews, neighborhoodserving retail, and a Trader Joes market. The community consists of three individual buildings that sit atop a common 2.5-level subterranean garage.
The first building, known as Movietown Square, features 77-units of much needed affordable senior housing above the Trader Joes market. The community offers extensive resident amenities, including a media center, gym, and roof top deck with community gardens.
Located across the public plaza are the two market-rate buildings, which are connected via an iconic bridge element. The bridge, which orients residents towards the Hollywood Hills, also acts as a mediating piece that reconciles the difference in architecture of the two buildings.
For reprint and licensing requests for this article, CLICK HERE.