Will Loews Santa Monica Top $500M?
Recent deals in luxury segment of region's hotel industry suggest as much
Friday, September 14, 2018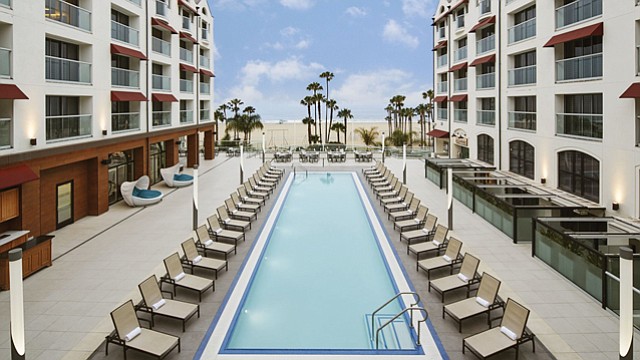 Loews Santa Monica Beach Hotel could fetch more than $500 million now that China-based Anbang Insurance Group Co. has put it on the market after counting it as part of its portfolio for just two years.
The price estimate comes from Alan Reay, president of Irvine-based Atlas Hospitality Group, who based the figure on recent sales comparisons, including last year's deal for the 358-room Ritz-Carlton Bacara in Santa Barbara. New York-based Carey Watermark Investors bought the Santa Barbara establishment for $375 million, just a bit more than $1 million a room.
Reay said the 347-room Loews Santa Monica's beachfront location in the L.A. market would likely take the mark up to $1.5 million per room or so.
Anbang purchased the Loews hotel for $485.4 million in 2016, but the company has been mired in scandal since then. China's central government seized control of the company earlier this year after its chairman, Wu Xiaohui, was sentenced to 18 years in prison for fraud and embezzlement. The crackdown came after an international buying spree that extended from a $1.95 billion deal for the Waldorf-Astoria in New York for $5.5 billion for the 15-hotel portfolio that included Loews Santa Monica and other luxury hotels around the U.S.
China's government pumped $9.7 billion into Anbang to address a reported liquidity crunch at the insurer in June, when a sale of assets began.
Anbang is expected to seek a buyer for the whole portfolio rather than separate deals. Blackstone Group, which sold the portfolio that included Loews to Anbang, could repurchase the properties, Reay said.
Las Vegas-based Lockwood Development Partners also has reportedly expressed interest in buying the hotels, which include the Montage Laguna Beach and Ritz-Carlton Laguna Niguel in Orange County.
Sovereign funds, overseas funds and ultra-high-net-worth individuals might also look at the properties, Reay said.
"If (Anbang is) looking to sell all 15 (hotels), that really does limit the buyer pool," he said.
Honors for WeHo
The city of West Hollywood was one of the six recipients of this year's Governor's Historic Preservation Awards, taking honors for its commercial historic resources survey, context statement and preservation website.
The city's Commercial Historic Resources Survey took account of commercial and nonresidential properties going as far back as West Hollywood's founding as a distinct, unincorporated part of Los Angeles County in 1895.
It was the first such survey West Hollywood had conducted since 1987, and the properties identified ranged from streetcar railyards from the late 19th century to office towers of the present day.
West Hollywood also won plaudits for providing a historic context statement covering the period 1895 until the city's incorporation in 1984. The statement addressed the city's past as a home for music venues on the Sunset Strip as well as its history as an epicenter of the Gay Rights movement, including during the AIDS crisis of the 1980s.
West Hollywood's historic preservation website contains a live-updated and searchable database of its historic properties. The website also provides access to West Hollywood's Cultural Heritage Preservation Ordinance, applications and forms for historic resources and other items.
Gov. George Deukmejian founded the Governor's Historic Preservation Awards Program in 1986 to honor "exemplary achievements of behalf of preserving California's richly diverse heritage," according to a statement from the California Department of Parks and Recreation.
This year's other recipients included the City of Sacramento for its historic context statement and survey of its mid-century modern architecture, the Cucamonga Service Station, located along the old Route 66 in Rancho Cucamonga, and the Santa Barbara County Courthouse mural room conservation.
Webb, SLAM unite
Mid-City-based Frank Webb Architects has merged with SLAM Collaborative, a Glastonbury, Conn.-based architecture firm with offices in Boston, Atlanta and Syracuse, N.Y.
The merger, completed on Sept. 1, fulfills SLAM's long-term goal of expanding to the West Coast, according to a statement issued by SLAM President Robert Pulito.
"This wasn't just about getting bigger," he said. "We were looking for a partner who saw the value in a cohesive team approach."
Frank Webb's leadership will join the SLAM executive team, the firms announced. Frank Webb Architects' website now describes the company as "a SLAM studio."
Frank Webb Architects was founded in 1990 and is known for its health care design. Some of its clients have included Kaiser Permanente Inc., UCLA, USC and City of Hope.
SLAM has worked in the health care, education, corporate and sports sectors.
Staff reporter Ciaran McEvoy can be reached at cmcevoy@labusinessjournal.com or (323) 556-8337.
For reprint and licensing requests for this article, CLICK HERE.