Good Samaritan's $100M Outpatient Project
Surgery suites, oncology, women's health services part of 12-story tower
Friday, September 14, 2018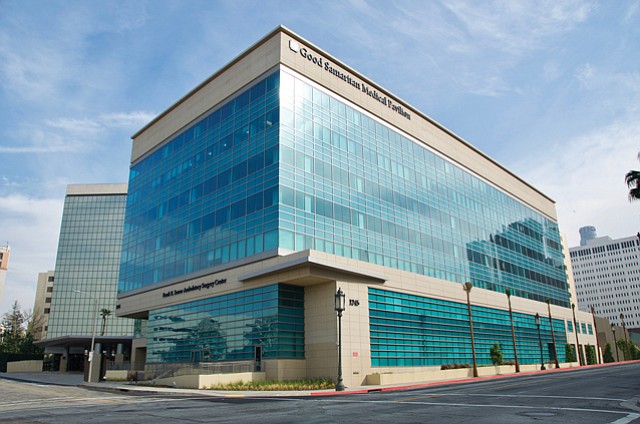 Good Samaritan Hospital has completed major upgrades to its health care facilities, inside and out.
The 133-year-old hospital on Wilshire Boulevard in Westlake this month announced the completion of its nearly 194,000 square-foot Medical Pavilion, a $100 million outpatient facility that broke ground in 2011.
The new seven-story pavilion includes the $12.1 million Frank R. Seaver Ambulatory Surgery Center, which opened Sept. 1 with eight outpatient surgery suites on the second floor. Other services include radiation oncology, women's imaging and doctor's offices and specialty hospital clinics.
An organic Kachi Café puts the finishing touch on a building designed by Ware Malcomb, a global design firm based in Irvine.
"Our goal was to create an elegant and modern structure that is warm, efficient and will withstand the test of time," said Andrew Leeka, chief executive of Good Samaritan, in a statement. "Our patients and physicians will be the first to tell you that they feel like they are in a beautiful, boutique hotel with soaring ceilings and natural light rather than a standard medical building."
The 408-bed care hospital on Sept. 4 also opened a 23-bed inpatient acute rehabilitation services unit to care for patients with severe stroke, brain, orthopedic and multiple trauma injuries. An emergency room expansion from 12 beds to 24 is in the works.
Barlow Builds
Barlow Respiratory Hospital's main campus in Echo Park is poised for a long-awaited makeover.
The 116-year-old hospital near Dodger Stadium expects to break ground Oct. 4 on a renovation that will convert an underused wing into a replacement for its current medical facilities.
The new facility, to be constructed within a 30,000-square-foot wing added four decades ago, is expected to be completed by 2022. Current operations in a Spanish Colonial Revival-style building from 1927 will treat patients until it undergoes a seismic retrofit.
The new facility will double the size of patient rooms, while increasing the number of licensed beds from 49 to 60, hospital officials say. The makeover also will include new nursing stations, new X-ray and therapy suites, and enhanced surgical services.
"This multi-phased plan achieves many things," said Amit Mohan, its chief executive, in a statement. "It transforms Barlow Respiratory Hospital into a state-of-the-art hospital and creates a modern work environment with enhanced comfort and capacity for our clinical team."
Barlow hospital officials declined comment on the cost of the new hospital. A fundraising campaign to rebuild the hospital is expected in October.
Prev Next
For reprint and licensing requests for this article, CLICK HERE.