Dr. Ronald Victor, Pioneer of Barbershop Blood Pressure Studies: 1952-2018
Tuesday, September 11, 2018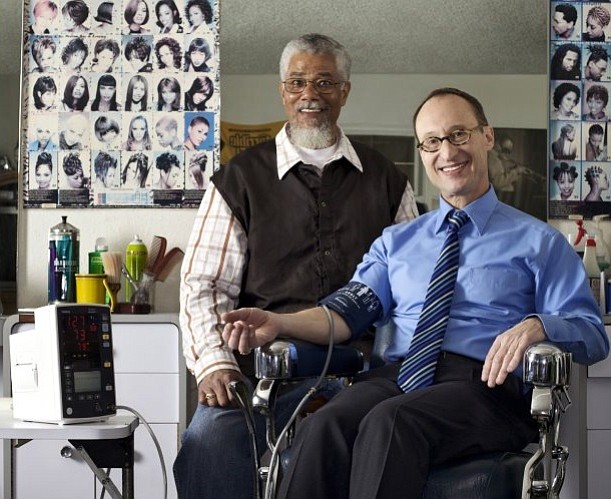 Dr. Ronald G. Victor, a physician-scientist at Cedars-Sinai Medical Center who saved the lives of black men with hypertension by recruiting barbers to check their blood pressure, has died. He was 66.
Victor, an associate director of the Smidt Heart Institute, died Sept. 10 from an unknown cause, the hospital announced.
"His out-of-the-box thinking has created a new paradigm for serving neglected populations: Bringing medicine to at-risk people rather than waiting for sickness to rear its ugly head," said Dr. Eduardo Marban, director of the institute, in a statement.
Uncontrolled hypertension is a main cause of premature disability and death among African-American men.
Victor is credited for pioneering research that recruited barbers into taking their patron's blood pressure, who then urged men with high readings to consult with an awaiting pharmacist.

Nearly two thirds of the 400 African-American men who participated in a Los Angeles-area study reduced their blood pressure to normal levels, according to a study published earlier this year in The New England Journal of Medicine.
His first barbershop study was conducted a decade ago in Dallas. It concluded that adding hypertension programs into an estimated 18,000 African-American barbershops across the U.S. would result in 800 fewer heart attacks, 550 fewer strokes and 900 fewer deaths – in the first year alone.
For his barbershop work, the Los Angeles-based cardiologist would receive numerous awards.

"Dr. Victor showed a genuine care and concern for our community's high blood pressure problem, particularly as it affected black men," said Eric Muhammad, owner of A New You Barbershop in Inglewood. Muhammad helped enroll African-American barbers for Victor's most recent study, for which Muhammad was a co-author.
"This doctor was an exceptional human being and one of the most humble men I've ever met," Muhammad said. "He didn't see color or class. He didn't see anything but our blood pressure problem."
Victor was also credited for his pioneering stem cell research into treatment of Duchenne muscular dystrophy.
The New Orleans native is survived by his wife, Vicki; his sister, Sally Victor Siegel, and his father, Harold D. Victor.
Health business reporter Dana Bartholomew can be reached at dbartholomew@labusinessjournal.com. Follow him on Twitter @_DanaBart.
For reprint and licensing requests for this article, CLICK HERE.