Rodeo Drive Retail Building Sells for $96M
Tenants include Kering brands Alexander McQueen, Brioni
Wednesday, October 24, 2018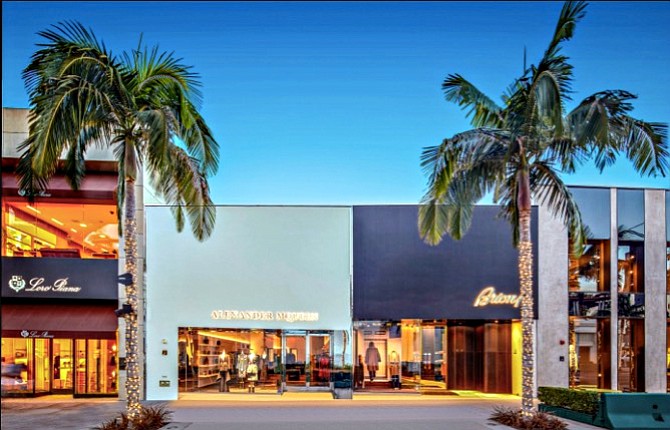 Commercial real estate firm Cushman & Wakefield announced the sale of a prime retail building along prestigious Rodeo Drive in Beverly Hills for $96 million.
The 11,625-square-foot retail building, at 457-459 N. Rodeo Dr., is home to Italian menswear retailer Brioni and British luxury fashion house Alexander McQueen.
The sale represents one of the highest price-per-square-foot – $8,240 per square foot – for Beverly Hills this year.
The property was acquired from Lang & Lang Properties by a joint venture, led by Michael Shabani of Crown Equity, Hakim Holdings and GWP Real Estate – all of which are based in Beverly Hills – and Chatsworth-based Mazal Enterprises. Cushman & Wakefield brokers Carine Mamann, Kazuko Morgan and Stephen Algermissen represented the buyer in the transaction. The sellers of the 457-459 N. Rodeo Drive building were represented by Gil Dembo, Bruce Dembo and Chuck Dembo, all with Dembo Realty of Beverly Hills.
The building is 100 percent leased to Kering brand luxury tenants.
The property features 50 feet of frontage on Rodeo Drive, where rents along Rodeo Drive can run $875 to $1,000 per square foot per year, according to Cushman & Wakefield research.
The sale is not the highest for retail property in Beverly Hills.
In March, LVMH Moet Hennessy Louis Vuitton Inc. purchased a two-story, 6,200-square-foot retail property at 456 N. Rodeo Drive in Beverly Hills for $110 million – or nearly $17,750 per square foot – from Palm Beach, Fla.-based private equity group Sterling Organization, which had acquired the property for $55 million one day earlier.
Sterling Organization bought the building from The Karl B. Schurz Trust, only to make a $55 million profit the next day for itself and its institutional investor partners in its Sterling Value Add Partners II fund, the group said in a statement.
The property is located in the Golden Triangle area, between Santa Monica Boulevard and Brighton Way.
There have been bigger sales on this street. In 2016, Bijan's yellow store on Rodeo Drive sold to LVMH for $122 million or $19,405 per square foot.
Rodeo Drive has the highest retail rents in Beverly Hills and Los Angeles.
Finance reporter Pat Maio can be reached at pmaio@labusinessjournal.com or (323) 556-8329.
For reprint and licensing requests for this article, CLICK HERE.