Next Digital Direction: 'Life Care'
HEALTH CARE: USC center takes broad view of tech
Friday, October 19, 2018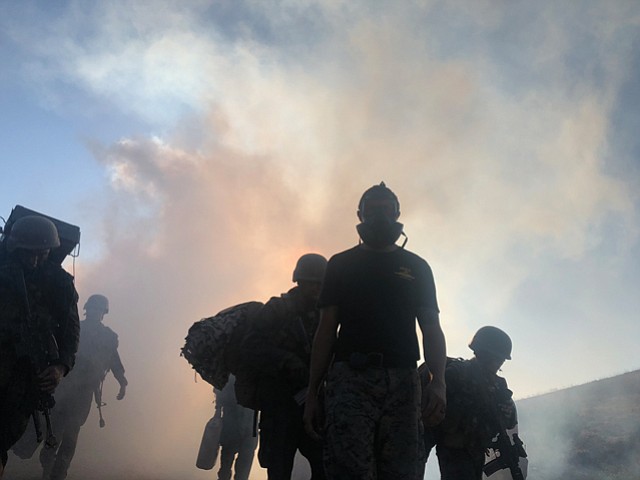 It's been said that any grunt tough enough to complete the grueling training required to become an elite Reconnaissance Marine has one true quality: grit.

Now digital health researchers from the USC Center for Body Computing have added one more ingredient: optimism.
The USC team recently made a medical study of data from wearable devices as well as attitudes discerned in digital surveys on what it takes to complete the 120-day U.S. Marine Corps' Basic Reconnaissance Course at Camp Pendleton
"All thought of quitting," said Leslie Saxon, founder and executive director of the research institution and think tank in Playa Vista. "But ones who succeeded had more positive thoughts – and they were basically more gung ho."
The findings from the landmark performance study on assessing Marine training were announced late last month at the Center for Body Computing's annual conference on USC's campus.
The research into the positive attitudes of Marine Recon candidates was one example of the center's growing role in shaping the commercial, legal and personal use of implantable devices, sensors, wearables and digitally connected smartphone apps.
At the core of the event was a shift from "health care of the sick" – treating or tending to the injured and ill – to what conference participants called "life care" – a wellness regimen supported by digital health information, body data and support services.
The conference highlighted USC innovations and research into the rapidly expanding digital health market, new recommendations on how to safeguard personal digital health data and new partnerships forged with health care businesses around the globe.
Otsuka Pharmaceutical Co. Ltd., of Japan, just announced a collaboration with the USC Center for Body Computing, as did global medical products giant Baxter International Inc., based in Deerfield, Ill.
The partnership with Baxter calls for the USC Center for Body Computing researchers to work with the company on a digital health software platform to engage customers, helping them manage the diseases that brought them to use Baxter products in the first place, Saxon said.
Terms of the agreement were not disclosed.
"Baxter has a long history of innovation in health care, and we see digital health providing an opportunity to significantly improve patient outcomes as well as enhance our technology offerings," Sumant Ramachandra, a senior vice president and chief science and technology officer for the company, said in a statement.
Part of Keck
The USC Center for Body Computing, part of the Keck School of Medicine of USC, was born at the dawn of Big Data. It's grown up at the convergence of digital technology and life sciences that include biotechnology, biomedical devices and medical diagnostics.
Saxon, a cardiologist, calls it a "handshake between technology and human beings through digital health care." Her epiphany about the potential of digital health came in 2006, while she served as chief of the USC Division of Cardiovascular Medicine.
She had spent decades implanting cardiac devices in patients – but then installed a new defibrillator mated with a wireless antenna, an experimental product at the time.
Her patient's heart could suddenly communicate with her directly – from afar. The physician would soon be able to observe tens of thousands of patients' hearts beating 24/7 into a recorded network that would enable earlier diagnosis of and intervention in heart conditions.
Saxon launched the Center for Body Computing in 2006, now considered among the nation's first academically based digital health research and innovation centers.
"It's really a liberating concept," she said of digital health, "because it jailbreaks the need for a doctor and patient to be in the same place, at the same time."
Track record
The USC Center for Body Computing has spent the past 12 years serving as a digital health research and innovation center working with entities across the medical, military, sports, public policy and business fields. Its efforts have ranged from the overall effects of wearable sensors to the specifics of gauging the Marine training at Camp Pendleton.
Another recent study charted the effects of free ridesharing for seniors. The research, sponsored by the AARP Foundation, showed a majority with access to free Lyft Inc. rides around Los Angeles reported an increase in medical and social visits.
The center's research and development is far-reaching, too. It partnered with Mountain View-based AliveCor Inc. in 2012 to develop a smartphone EKG heart monitor, which led to the heart monitoring function later added to the Apple Watch Series 4.
It started Virtual Care Clinic in 2015, building a consortium of companies and agencies to match patients with a round-the-clock health care software and services platform, with access to diagnostic sensors, information and support.
The center also has worked with dozens of health care companies (from Proteus Digital Health Inc. to Pfizer Inc. to Abbott Laboratories); car companies (from BMW AG to Tesla Inc. to EVelozcity Inc.); law firms (from Cooley to Nixon Peabody); as well as sports teams (from the Philadelphia Eagles to the Los Angeles Clippers) to develop digital health devices and software that enhance health, physical performance and safety. This year saw VSP Global announced a line of Level smart glasses with built-in activity tracking software developed by USC's digital health research center.
Excutive director Saxon and her colleagues at the Center for Body Computing have published more than 200 scientific papers on digital health. The center now employs 10 workers in the heart of Silicon Beach and counts between 60 and 80 affiliated researchers. It hosts an annual SLAM competition that gives $10,000 in prizes to students who solve problems using digital health tools.
Saxon, who serves on a health IT advisory board for California Gov. Jerry Brown, last month announced recommendations on how to safeguard digital health data across California.
Global market
Investment into the digital health market is exploding, analysts say. Digital health companies worldwide have received roughly $34 billion in venture capital investment since 2010.
Venture funding into digital health worldwide reached a record $8 billion in the first nine months of 2018, with 556 deals, and could hit $10 billion this year, according to Mercom Capital Group, a global research firm based in Austin, Texas, compared with $7.2 billion last year.
And digital health is on the radar of tech and retail giants such as Apple Inc., Amazon.com Inc., Walmart Inc. and Google Inc., which has invested more than $700 million into more than 20 digital health companies, said Raj Prabhu, chief executive and co-founder of Mercom Capital.
"The sector has significant momentum and substance behind this record funding, from regulatory support to entry of large tech and health care companies – including a slew of intellectual property applications and FDA approvals, Prabhu said, in a statement.
A key challenge for companies in the digital health sector, Saxon said, is how to make it profitable – either through advertising, paid subscriptions or fee-for-service models.
She declined to disclose financial data about the Center for Body Computing.
"Nobody knows what the market business model will be for digital health," she said. "Models that are not appropriate are models that are based on (advertising), like Google or Facebook. So the revenue model needs to be figured out."
Dina Lozofsky, executive director of Biocom's Los Angeles office, said the center has been key to developing the tech needed for assessing physical and mental performance, to develop the treatments needed to improve health.
"What's great about Los Angels is the convergence of biotech, tech and digital health," said Lozofsky, who attended the digital health conference. "There's a perfect fit between the work that they're doing at the Body Computing Center and having access to so many different industries, including sports organizations and local companies."
For reprint and licensing requests for this article, CLICK HERE.