CUSTOM CONTENT: The Value of a Proper Balance Between Your Business and Your "Giving Back" Philosophy
Trusted Advisors
Wednesday, October 17, 2018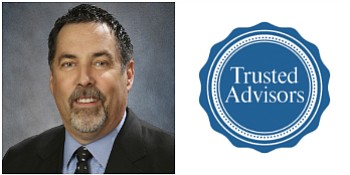 Surrounding myself with the best has always been a strategy I have executed. This not only applies to my professional life, but it also applies equally to my "giving back" philosophy. Thus, I've been actively involved with several non-profit groups throughout my career. In doing so, I've seen this philosophy payoff in so many ways.
During my 35-years of commercial banking, I've held numerous leadership and board of director positions with local, national, and international non-profit groups, such as Lions Club International (Past President-San Ramon Lions Club) and Rotary International (Past President- San Ramon Rotary Club), as well as Boys & Girls Club of America (Board Chair Boys & Girls Club of the West Valley). All groups are commonly focused on missions most passionate to me.
A short summary on each is as follows:
Lions Clubs International, founded in 1916 in Chicago, IL, by Melvin Jones with a vision to be the global leader in community and humanitarian service.
Rotary International, founded in 1905 in Chicago, IL, by Paul Harris with the motto of "Service above Self", where people unite and take action to create lasting changes across the globe.
Boys & Girls Club of America, founded in 1860 in Hartford, CT, by Mary Goodwin, Alice Goodwin, and Elizabeth Hammersley as the Boys Club of America until 1990 when girls were added to the cause, where their mission is to enable all young people, especially those who need us most, to reach their full potential as productive, caring, and responsible citizens.
With non-profit organizations and the board of directors that lead them, you'll not only be amazed at who you meet, but you'll also marvel at the vast level of expertise they possess in both their specific industry and in areas that may be of interest to you. Whether it's another individual who has gone through the same issues as you or a professional resource for your business, the connections you make while working with non-profits you strongly support are invaluable. Although you're truly present for the non-profit's cause, you will also be forging lifelong relationships with like-minded professionals that will help you in so many ways.
Long after I was a volunteer at a non-profit, I would still reach out to those individuals I had forged bonds with while serving. I would also receive calls for advice, including banking issues with their current bank. The same holds true with my fellow board members where the resources available to one another are vast and wide-reaching.
For reprint and licensing requests for this article, CLICK HERE.
Prev Next