CUSTOM CONTENT: Are You Still Operating Business As Usual? GROWING RISKS FOR LAW FIRMS
Trusted Advisors
Wednesday, October 17, 2018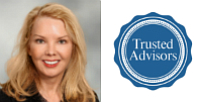 Managing risk has become increasingly complex for law firms as they continue to evolve into large, global practices and face similar issues as any Fortune 500 multinational corporation. While they recognize their risk exposure transcends far beyond malpractice, managing partners are discovering gaps in their risk and insurance programs after being hit by a security breach, a discrimination claim or allegation of negligent due diligence that threaten their firm's reputation and financial viability.
Strategically partnering with a risk management advisor and considering the top growing risks law firms face today can help firms assess where to best invest their time and money to protect against potentially catastrophic losses.
Cyber Risk. Just three years ago, law practices were still skeptical of cyber coverage, assuming that most of the major risks would be covered by their lawyers' professional liability policy (LPL). This is only partially true. LPL coverage applies to cyber risk under certain circumstances and with proper modification of the policy. However, a large number of situations are only covered by a separate cyber policy, such as first party loss, including business income, forensics and crisis management as well as third party liability from release of sensitive information.
It's important to leverage all policies to respond to cyber risks, including some of the limited coverage under a property policy. Policies must be aligned and the language should be seamless to avoid blame shifting, eliminate gray areas or overlaps in coverage, and ensure proper compensation for a cyber loss. Cyber coverage is constantly evolving as new exposures and losses arise. Each coverage renewal provides an opportunity to bring a firm's program up to the latest standards.
Employment Practices Liability (EPL). Widespread accounts of sexual misconduct and inappropriate workplace behavior, coupled with the #MeToo movement, have underscored the importance for law firms to reexamine their employment practices exposure. The recent wave of high profile cases impacting the reputations and pockets of some of the world's largest law firms reaffirms the serious repercussions EPL claims can bring.
The most frequent claims are now coming from allegations of a "hostile work environment." This is an environment where staff is regularly subjected to inappropriate jokes, comments or pictures, or where unwanted touching or communication is tolerated. Claims can be made not only by staff, but by third parties as well.
Fortunately, most EPL policies extend coverage to any party—employees, customers or vendor—who allege they were sexually harassed by someone at the firm. These policies cover a wide range of allegations, from sexual harassment, and discrimination based on gender, ethnicity and other factors, to creating a hostile work environment.
Prev Next
For reprint and licensing requests for this article, CLICK HERE.