San Pedro Ports Set Month and Fiscal Year Records
Monday, October 15, 2018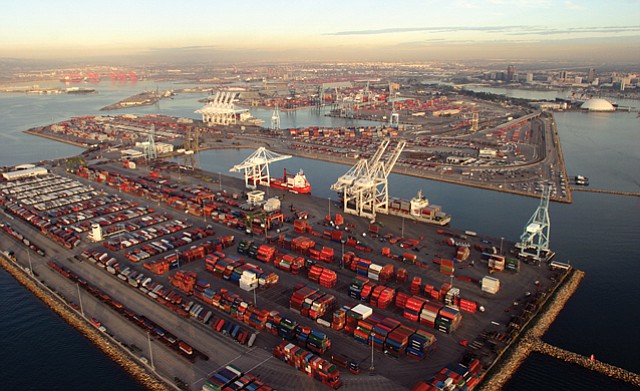 The Port of Long Beach set a new fiscal year record in container movement and the Port of Los Angeles recorded its best September in history, the ports recently announced.
The port of Los Angeles moved more than 800,000 20-foot-equivalent-units (TEUs) last month, a 4.9 increase compared to the same month in 2017 marking the port's strongest September in its 111-year history, port officials said.
Imports increased by 6.6 percent to 414,281 TEUs compared to the previous year and exports increased 14.5 percent to 147,000 TEUs, while empty containers fell 2.7 percent to 239,983, port officials said.
"Volumes remain strong with shippers importing holiday season inventories and manufacturers bringing supplies and materials in advance of additional cost impacts from tariffs," Port of Los Angeles Executive Director Gene Seroka said in a statement.
Both ports cited surges in container count before President Donald Trump imposed a 10 percent tariff on aluminum and 25 percent on steel in May. Shippers raced to beat the additional taxes then and recent surges in container movement have been attributed to threats of additional tariffs by Trump.
"Despite the tariffs imposed by Washington and Beijing, international trade is showing resilience," Mario Cordero, executive director at the Port of Long Beach said in a statement. "At our Port we are providing a conduit for commerce that's efficient for our customers and getting their cargo to destinations faster, saving them money."
Unlike Port of Los Angeles' fiscal year which observes the calendar year from January to December, the port of Long Beach's fiscal year runs from Oct. 1 to Sept. 30. The latter broke container movement records, handling an all-time high of 8 million containers over the time period, a 10.7 percent increase year-to-year.
However, the month of September was flat, seeing a 0.1 percent decrease in container movement. Imports decreased 2.5 percent to 357,301 TEUs compared to the previous year and exports were down 3 percent to 121,561 TEUs, port officials said.
Manufacturing, retail and trade reporter Shwanika Narayan can be reached at snarayan@labusinessjournal.com or 323-556-8351. Follow her on Twitter @shwanika.
For reprint and licensing requests for this article, CLICK HERE.